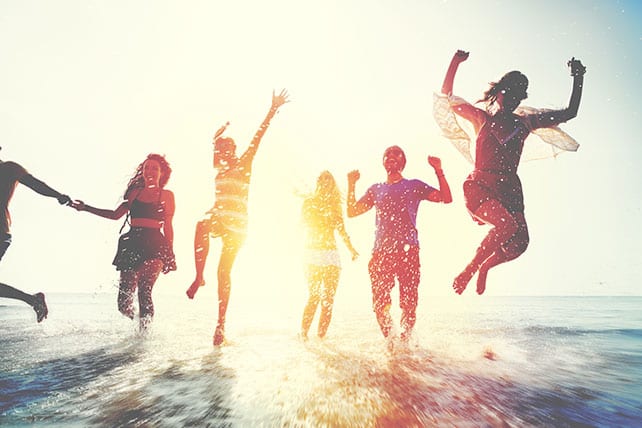 Summer is here, and that means as youth ministers, we have all the time in the world. Ha-ha! Just kidding! I don't know about you, but my summers are crazy time, from mission trips to conferences and, of course, planning for the upcoming year. Nevertheless, I sure do love those summer months! That's why I created a summer bucket list for teens.
Kids are out of school, so there's a feeling that everything is carefree and more relaxed, which creates opportunities for youth ministers to just hang out with kids.
Just in case you're looking for some new ideas on what to do with all of your "free" time this summer as a youth minister, I made a list of things I've done, and things I want to do, with our students this summer.
My summer ministry bucket list for teens includes these 20 entries:
1. Campfires!
Who doesn't love roasting marshmallows and sitting around a fire with a guitar singing ridiculous songs? ("Hot" tip: Borrow a parishioner's fire pit!)
2. Flashlight Tag
Go to the park down the road and play flashlight tag. Simple, cheap, everyone is invited.
3. Fishing
Rod, reel, worms. Good times.
4. 24-Hour Prayer Retreat
This summer we're hosting a 24-hour Prayer Retreat in the chapel. Two teens at a time sign up for two-hour slots. In the chapel, we have guided reflections and meditations for the teens. It's also a good way for the teens to be seen by the parishioners.
5. Service Days
We set up and host regular serve days around the parish, for teens to come serve the needs of the parish. It's an easy way for the teens to be reminded of the larger Church.
6. Mission Trip in a Day
This summer we're hosting five different days of mission at different community centers throughout town. Each week is set up and hosted by a different Core member.
7. Baseball (or any outdoor sport) 
Find the cheap tickets, caravan down to the stadium, and go to the game together.
8. Go-Karts
Who doesn't love go-karts?
9. Laser Tag
Again, who doesn't love this stuff?
10. Campouts
Our summer retreat is a massive campout for any high school teen in our area.