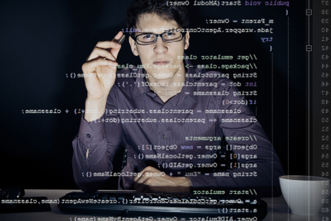 Youth ministry is about getting students to love God and others and to GO make disciples of all nations, right?
Well … Bob Dylan sang: "For the times they are a-changin."
I think he is right because:
Adolescence is changing.
The internet is changing how people are influenced, impacted and connected …
which means how we equip our students — that God has entrusted to us in the short period of time we have with them — to reach the nations really, really matters. And our evangelism method of how we do this in a 21st century, postmodern, digital world needs to be changed.
To date, there are approximately 1,319,872,109 people on the Internet. It took the radio 38 years, the television 13 years and the World Wide Web 4 years to reach 50 million people.
So my question is: How can youth pastors equip students to GO make disciples of all nations in a hyper digital-connected and internet-driven world?
My answer: Teach them how to be a computer programmer.
That's right. I am saying youth ministry needs to empower students to learn computer science.
Here is why I think youth pastors need to consider teaching and resourcing students to be coders:
—David Kinnaman in You Lost Me argues that the Christian creative teenager is one of the biggest student clusters the church is losing. Ministry leaders are unsure of how to connect with young, expressive, creative Christian teens and unsure of how to give young creatives avenues to create and express their artist talents. To read more about why I think youth pastors need to appeal to the young artist click here.
—Students are looking for more creative expressions and platforms that impact a global audience. I am finding that more creative teens in our youth groups are wanting to create stuff online that impacts people for God.
—Coding and programming enables students to dream up an idea, build it, and make their God given vision a reality online. So we need to "get 'em and teach 'em while they're young." Why not let our kids start experimenting with creating stuff online? They are already spending a butt load of time on computers and are pretty technologically savvy already, so why not unleash them to start creating stuff?
—Coders are the wizards of the future. Great coders are today's rock stars and jocks.
—Coding teaches students critical thinking and problem solving skills. And critical thinking is a key to having "sticky" and sustainable faith post high school.
Bill Gates said: "Learning to write programs stretches your mind, helps you think better, and creates a way of thinking about things that I think is helpful in all domains."
—The New York Observer "realized computer science and computer programming isn't about nerdy boys sitting at computers and coding out nonsense that turns into violent video games and complicated math problem solvers. No, computer programming isn't this at all. Computer programming is a medium for expression, a place for creation and creativity."
—Computer programming is the career of the future. The global digital world will need more coders, and in the coming years there will not be enough computer programmers to meet the demand. If you don't believe me, check out this infograph here.
—Zuckerberg, Gates and Will.I.Am encourage students to code. Please. Please. Please watch this video. This video is compelling to why students need to learn code, and invites any student to begin learning how to code.
So times are changing. We are living in an interesting digital world where kids have more resources and technologies to create and build stuff online. So why don't we keep teaching the Scriptures and start teaching coding?
Not only will students love, trust and obey Jesus, but they will be equipped to engage the new digital world. In my experience, I have seen many teens build incredible platforms and communities online that further the Kingdom of God here and now. Worse case senario …. we teach coding and Christ and some students leave their faith after high school, but will score a promising and high paying job as a computer programmer post graduation.
So here are two great educational resources to give kids who are interested in computer programming:
Code.org — An organization dedicated to improving the state of computer science education in the United States for teens.
How To Be A Rockstar WordPress Designer — This book teaches step-by-step how to take a straight HTML site and power it with WordPress.