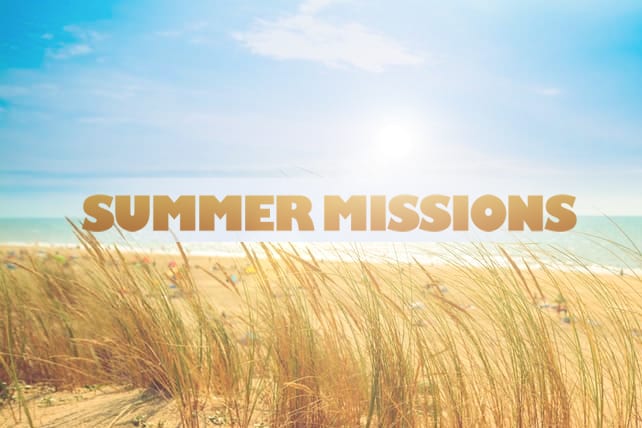 What are you doing this summer?
Every college students gets this question. And there are plenty of options to choose from:
Enjoy relaxing at home
Take a beach trip (or two)
Work a part-time job and enjoy some free time
Work a full-time job and make some money
Take summer classes
Get an internship
All of these are good options and may even be the right option for you this summer. However, I want you to consider another option: go on mission. There is nothing that has the potential to change your life more than using one (or more) of your summers to spend and be spent for the sake of the gospel.
Let me share how I spent my summers in college. My first summer, I served as an intern to the lead pastor at my local church. I was mentored, entrusted with ministry responsibility, and learned the inner workings of the local church. My second summer, I was sent out to the middle east. I learned Arabic, I built friendships with unbelievers, shared the gospel and served alongside a long-term team on the ground. My third summer, I served as intern in the student ministry at my local church. I planned events, discipled students, led Bible studies, went to summer camp and was invested in by the student ministry staff. Now, I recognize my path may not be the same as yours. Here's what I know though: God uses the seasons we surrender to him to better prepare us for a lifetime of ministry regardless of our vocation. Little did I know God would use all of these experiences in different ways to shape my passions and calling for future ministry. For those not pursuing vocational ministry, going on mission for at least one summer will change the way you approach your career and will help you better understand God's calling on your life in the marketplace.
So, what about you? What are you doing this summer?

Let me encourage you with three reasons to go on mission this summer:
1. The gospel compels you
My prayer for college students is that they would be so gripped by the gospel that it would compel them to give their life to advancing it wherever they find themselves. Indeed, the gospel compels us by lifting our eyes to the glory of God and reminding us of the need of humanity.
The gospel displays God's glory in the perfect, sinless Son of God bearing the full weight of God's judgement of our sin. It displays God's glory in accomplishing God's perfect plan to redeem sinners and restore all things. It displays God's glory in uniting Jews and Gentiles, people from all nations, into the family of God.
For what we proclaim is not ourselves, but Jesus Christ as Lord, with ourselves as your servants for Jesus' sake. For God, who said, "Let light shine out of darkness," has shone in our hearts to give the light of the knowledge of the glory of God in the face of Jesus Christ." —2 Corinthians 4:5-6
The gospel also reminds us of the need of humanity and the weight of sin. It reminds us of the weight of sin in that God himself had to take on flesh and die on the cross. It reminds us of the weight of sin in that apart from hearing and responding to the gospel, people will die in their sin. It reminds us of the weight of sin in that people are blinded to seeing the glory of God in the face of Jesus.
For the love of Christ controls us, because we have concluded this: that one has died for all, therefore all have died; and he died for all, that those who live might no longer live for themselves but for him who for their sake died and was raised. —2 Corinthians 5:14-15
Seeing the glory of God and feeling the weight of sin, how can we not move toward the lost with the gospel? How can we stay silent or sit still when we have come to know and enjoy the hope of the gospel? The gospel pushes us outside of ourselves toward others for the glory of God. Whether you stay at home or go to the nations, the gospel compels us to live on mission!
So ask yourself: How am I going to respond to the gospel in my own life this summer?
2. The church needs you
While there are a lot of ways to go on mission for the summer, one of the most effective ways is to do so through the local church. The church needs college students who are willing to risk their time and invest their gifts to help the church advance the gospel and make disciples. There are churches throughout North America and church planting works throughout the world that are ready to receive summer interns, who will help them more effectively share the gospel, equip believers and serve their community.
God's plan for fulfilling the Great Commission is through planting and strengthening local churches (Matt. 28:18-20; Col. 3:10). Therefore, one of the most lasting investments you can make with your summer is to partner with a local church in advancing the gospel at home or abroad. However, the church not only needs you for the summer; it needs you to be equipped to make disciples for life. Think of going on mission this summer as an investment, the church investing in you and you investing in being prepared to serve the local church wherever God sends you throughout your life.
3. Your time is now
Most college students get at least three, maybe four, summers to enjoy. Once your summers are gone, you will either look back with experiences that were life-transforming or opportunities that you missed. Going on mission may not be the best opportunity for you this summer, but I know you don't have many summers to use. If there is a time to go on mission, the time is now. The time is now to serve the local church, assist a church plant, serve on an international mission team, share the gospel, reach the lost, be discipled and disciple others, experience gospel community with other believers, develop your gifting and calling, and grow as a leader. If you use this time to learn what it means to be on mission and serve the church, it will prepare you to spend your life making disciples in and through the church for the glory of God.
Only one life, 'twill soon be past
Only what's done for Christ will last. —C. T. Studd
Ask yourself: What am I waiting for?
At Open Door Church, we have the privilege of partnering with other local churches throughout North America to mobilize students to invest their summer for the kingdom of God through Summer LINK.
Summer LINK equips students to become a part of the momentum already mounting across the country and the globe—men and women willing to live on mission, following Jesus to the ends of the earth, and seeing the fulfillment of the Great Commission.
Generation LINK Overview from Generation LINK on Vimeo.
Summer LINK opportunities range from six to nine weeks and are adapted in unique ways to fit each of our Generation LINK locations. Whether training indigenous pastors overseas, coordinating outreaches in unreached communities, or sharing the gospel with students at nearby universities, our mission unites us: to see Laborers Impact the Nations for the Kingdom.

Our Summer LINK participants experience immersive community and discipleship through living life together and by becoming a part of a local body of believers. Summer LINK is committed to personal spiritual growth and leadership development, as well as providing a multitude of options to serve within different areas of ministry.
It is our desire that Summer LINK will be a spiritual benchmark in your life—an experience that not only impacts your summer, but impacts the rest of your life. Because Summer LINK operates through local churches, you can be sure your labor will continue being cultivated long after the summer is over.
Click HERE to take the next step to go on mission this summer through Summer LINK.