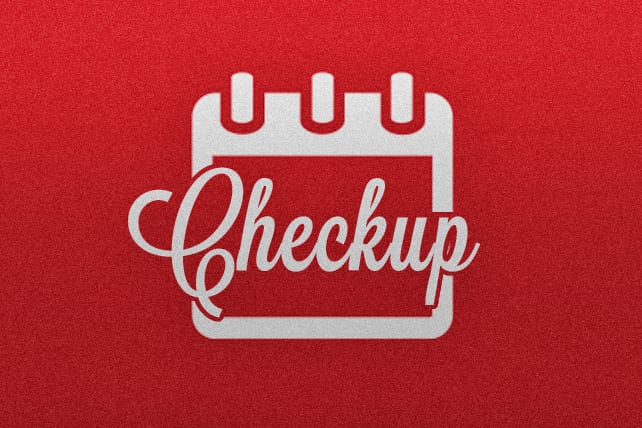 The year is half-way over. 
Do you remember your New Year resolutions? You might have tried to forget them back in February. Or you might still be chipping away at them. Either way, the half-way point of the year is a good time for a check-up. It's a time to reflect on your resolutions or just take inventory of the year so far.
As you look back on the first half of this year, here are some questions to ask:
What are some of the highlights or major moments from the first half of this year? Are there events or circumstances that have kept you from pursuing some of your goals or desired changes? Are there things worth celebrating—goals met, changes made, blessings experienced, etc…? This helps me wrap my mind around both the good and bad of the year so far. It also provides a context for some of the changes we want to make in the second half of year.

How have I changed or grown as a husband/wife, father/mother, minister, employee/employer, student, friend? All of us have different roles and responsibilities. How are you doing in these roles at this point in the year? Are you struggling in any particular areas? Are you rejoicing in any particular area? Addressing these areas helps us look more holistically at our lives.

What would you like to do better or do more of the rest of this year? It is helpful to acknowledge the growth you have seen and yet seek to do more or do better in the remainder of the year. Rejoice in growth, but seek to grow more and more. Don't let a rough start to the year in spiritual disciplines or life goals keep you from refocusing and seeking to change in the second half of the year.

What would you like to stop doing or do less of the rest of this year? Be honest. What have been the hang ups, obstacles or sins that need to be addressed at this point in the year? Often your answer to this question will arise from considering your answer to the previous question. Doing the things we know we should do or want to do more of means doing less of other things.

What will you do to implement these changes in your life? Every change we seek to make will require a plan. It will require counting the cost, evaluating the impact it will have on our life, and considering the ways we will accomplish it. Be realistic. Make plans prayerfully. Without a plan, you'll merely be wishing for change. With a plan and prayerful dependence on the Lord, you'll be on your way to seeing change in the second half of this year. 
You might also want to look at Donald Whitney's 10 Questions to Ask at the Start of a New Year or on Your Birthday. 
Resources for the Rest of the Year
As you reflect and plan for change in the second half of the year, you may find some of the following resources (and ideas) helpful:
Bible Reading Plans:
Prayer:
The best way to grow in prayer is to pray. Cut out the noise, focus on the Lord, use a journal, don't give up, keep praying. 
However, there are some great resources worth reading to help you in this pursuit. I've read the first and look forward to reading the second:
Family Devotions:
10 Ideas and 10 Tips for Family Devotions in 2017 – Whether you are in a groove or seeking to start family devotions with more consistency, this is a great resource for you.
Family Worship by Donald Whitney. In addition to the book, Crossway has provided a 5-Day Email Course: Family Worship 101.
A word of encouragement: It's not too late to start or make a change in this area. Family worship often has rhythms to it. Find a way to get your family in God's Word and prayer together regularly. Use or tweak available resources so they work for your family.
Evangelism
Begin with prayer. We simply cannot rush past this pivotal starting point. What we care about, we pray about. What we pray about, we often live out.
A 3-Fold Prayer for Evangelism:
God, give me an OPPORTUNITY today to speak to someone about Christ;
Give me WISDOM to see it;
Give me the BOLDNESS to seize it.
Marriage:
An End of Year Marriage Check Up by Kevin DeYoung. DeYoung's questions are focused on the end of the year, but they are just as helpful for mid-year evaluation. Don't neglect this area of your life. Get a sitter and go grab coffee over these questions.
Happily Ever After: Finding Grace in the Messes of Marriage by Desiring God (devotional). Maybe reading through something together as a husband and wife is your thing. This looks like a great resource from a number of different authors.
Time Management:
Finances:
Odds are you have experienced some financial stress this year. Don't neglect this area. If you're looking for a helpful basis of evaluation, check out Art Rainer's The Money Challenge: 30 Days for Discovering God's Design for You and Your Money. His website also has some great resources you may find helpful. 
Create a Budget. Most people don't do it because it seems too daunting. I made this mistake early in my 20s. There are so many good resources available now that you do not have an excuse. If you have a budget, evaluate how you are doing and make necessary changes.
Visit with a Financial Advisor. You may even check if there are any financial advisors in your church. Most will review your information and walk through some action items at no cost.
Consider Using Mint. There are other personal finance apps, but this is my personal favorite. It allows you to see trends in your spending, which helps in setting your budget. It also allows you to sync all your accounts and bills in once place. Plus, you can use Mint on your phone, tablet or computer. 
Exercise: 
Check out the 7-Minute Workout Challenge. If you're in a rut or unable to commit to join a gym, you might find this app a helpful resource. No weights required. Use it anywhere. 
Get a Gym Membership. Our family loves the Triangle YMCA. It offers multiple locations, great programs, childcare and connects us with our community. If you think you cannot afford a membership, ask about financial assistance plans at your local gym. 
Couch to 5k. I know, I know. If getting started seems daunting, this may be a great place to start. Accomplishing some goals can go a long way in starting exercising. 
This article originally appeared here.