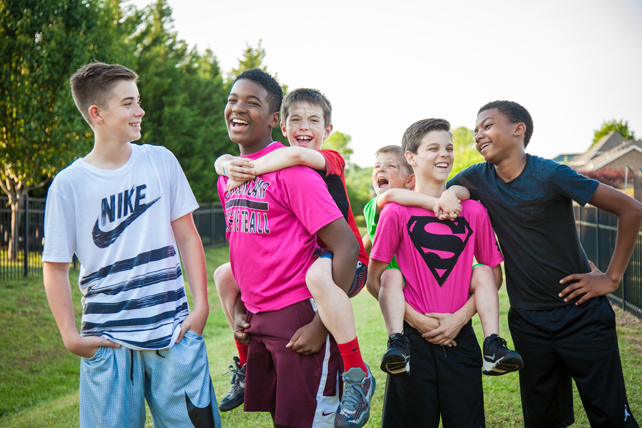 I, Andy Lawrenson, am the parent of a teen. What is it I am I saying when I decide that it is important for my son or daughter to be an active participant in our student ministry?
I'm saying:
I understand that church is God's idea.
Now I say to you that you are Peter (which means 'rock'), and upon this rock I will build my church, and all the powers of hell will not conquer it. Matthew 16:18
Those who believed what Peter said were baptized and added to the church that day—about 3,000 in all. Acts 2:41
The church isn't an idea man came up with, it was instituted and started by God Himself. So when I, as a parent, send my teen off to my church's youth group or student ministry, I'm demonstrating that I get it. God wants us as believers to be an active part of the church. Youth group is church. Whenever the believers get together that is church. When my 13-year-old rolls up on Sunday evenings to his youth group I'm helping him to grasp what being actively involved in a local body of believers is about.
My child is important to the body of Christ
When I involve my child in the student ministry, I'm demonstrating my understanding of 1 Corinthians chapter 12. My son is a child of God, the Holy Spirit lives in his life, he has been gifted to serve in the body of Christ, he is a vital body part. A body that is missing its spleen cannot function as well as a body with its spleen. (I'm not a doctor but I think that is true, the spleen is important.) When the body is together it needs all the parts in place and functioning. Not just filling space but doing what God has placed them there to do.
I'm making incredible memories
Making memories is important for our family. Last summer we took a simple vacation to a farm house built in the early 1800s and lived there for week. We went on walks on the farm, saw lots of wild life, played in a river and swam in a community pool. That vacation is a great memory for our family. I get it when parents want to "make memories."
My best memories are of my times as a teenager involved in my local church family. Youth group was such a great time for me; mostly I remember the relationships with other students and the caring adults. These adults and the memories I have of them have helped shape my life into who I am today. My family doesn't just make memories on Sunday, we are living life seven days a week. Each day is an opportunity to make memories.
My teen needs Christian adults investing in his life
According to LifeWay Research, teens who had five or more adults from the church invest in them during the ages of 15 to 18 were less likely to leave the church after high school.
My son will be impacted by the influence the members of the student ministry will have on his life. Part of the reason I want him involved is because I want to see him continue in his faith journey after he graduates. Those relationships he is forging in his youth group with his adult leaders are invaluable.
I understand that momentum helps with growth
I don't just want my son to benefit from the experience of being involved in a faith community, I want other teens to experience it as well. I know that when my son is at youth group he is contributing to the momentum that is created when participation is at a high. That momentum can spur growth, that growth can be key to the student ministry reaching students who need a relationship with Jesus Christ.
His participation can also build momentum in his own faith journey. His involvement can be a catalyst to his faith growing as he gets new glimpses into Who God is in his own life. I don't want my son to miss out on his faith picking up speed and growing, the momentum of participation and learning and application.
I understand my responsibility to disciple my teen.
I want to be a Deuteronomy 6:7 parent. I want to be the main discipler of my teen. My role is to teach him about faith and how to live out his faith. My responsibility is to teach him the Bible but also to teach him to apply the Bible. If I'm going to teach him to apply what is contained in the Bible I will recognize and teach him the role of the church in his life and his responsibility to be involved in a local community of believers.
I'm supporting the ministry of my church
I believe God has placed my family in our local church. God knew where I needed to be to grow and serve and also for my kids to grow and serve. By sending my son to youth group I am actively supporting our church's ministry. As a former youth pastor I understand the frustration of leading a ministry that at times you wonder do the parents even care if this ministry is successful or not. Since God has placed my family here I believe we have a responsibility to be supportive of the student ministry, the student ministry team and the leadership of our youth pastor. My support is proven by my action.
As the parent of a teen do you have any you would add to the list?
Are there any that you would disagree with?
This article originally appeared here.