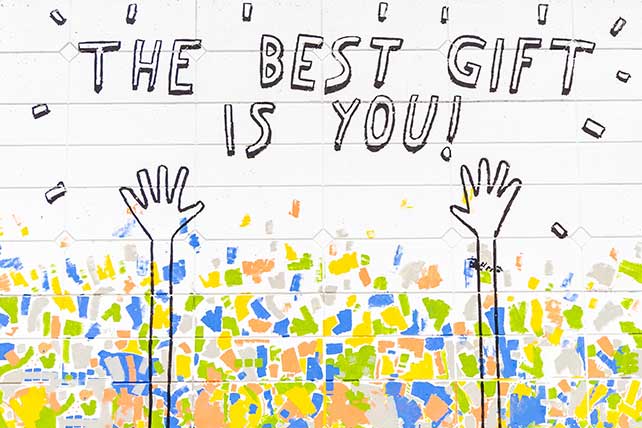 They've taken nerf darts to the face, given up their weekends for retreats, and stayed up way too late at lock-ins, valiantly labored through your curriculum on Leviticus and, well, had your back all year long. Let's face it, our volunteers are awesome and we couldn't do it without them. While what they really deserve is a getaway weekend in a luxury five-star hotel, there are lots of practical ways you can show your volunteers how much they mean to you. As you finish out and celebrate another year of fast-paced, Spirit-filled, caffeine-fueled ministry, here are some simple but meaningful ways to say thanks to your leaders:
1. Throw them a party.
Whether you open your own home or ask that congregation member who loves to be a host or even meet at a local restaurant, give your team a night where they get to be the guests of honor. As you enjoy fellowship together, make sure you ask the group to share their most meaningful moments in ministry over the past year.
2. Send a personal thanks.
If getting together is a challenge, try writing and thanking each one of them individually. Make sure to mention a gift or talent you've noticed in each leader, share a favorite moment you've had with them over the past year, or pass on a compliment you've heard from a student or parent. Your volunteers look to you as their leader; you can count on the fact that your recognition will be a meaningful gift.
3. Give a shout out from the pulpit.
If your church doesn't have one already, start a leader appreciation day. Call your volunteers up on stage during a service, or simply ask them to stand and be prayed over by those around them. Creating a whole-church culture of appreciation helps maintain a healthy congregation, and may even inspire others to join the team.
4. Bring in reinforcements.
I'm going to go out on a limb here, but I'm willing to bet there are people in your congregation who love to go Pinterest crazy and are just itching for a good reason to take on a project. Am I right? Track down your best bakers or crafty creative-types and ask if they'd like to make something for each member of your team. Give them a budget and a list of names, and chances are they'll take it from there. Bonus: Not only will you empower them to speak their love language, but you'll also help them feel like they can be a part of the youth ministry in their own unique way as well.
5. Let the students do the talking.
Pass around some notecards or a video camera and ask your youth group to share their own messages of thanks and appreciation for their leaders. If yours isn't the chattiest bunch, you could always give them a few prompts to get them started—such as, "my favorite moment this year was…" "you made me think when you said…" "something I admire about you is…" or "I think you're great at…" Teaching students to practice recognizing and encouraging others will build up team morale like nothing else—and build up the next generation of our church to be good, caring communicators.
Now, go forth and celebrate!
This article originally appeared here.