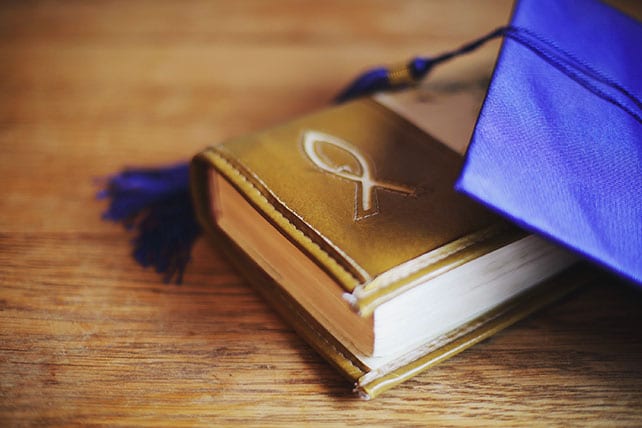 A Sunday school graduation event is a great way to convey children's importance to God—and to the church. As a pastor and teacher, I've always cherished children and youth. Kids also carry a special place in the heart of our outreach center in Maryland. Children are precious!
Scriptural basis for Sunday school graduation
Isaiah 11:6 prophecies about the coming Christ, saying "a little child will lead them." Jesus admonishes his own disciples in Mark 10:14 that they should "Let the little children come to me, and do not hinder them, for the kingdom of God belongs to such as these."
Then the apostle Paul, in 1 Timothy 4:12, exhorts Timothy to not "let anyone look down on you because you are young, but set an example for the believers in speech, in conduct, in love, in faith and in purity."
And we also have that wonderful promise in Proverbs 22:6. It says if we "train up a child in the way he should go, when he is old he will not depart from it." These are powerful Scriptures about children and youth!
Why celebrate Sunday school graduation?
As a church, it's important to encourage and affirm our children and young people. That's especially true because our culture cheapens kids by telling them they're cosmic accidents through evolution. Students repeatedly hear they're no more than another animal, unable to control their natural urges and "instincts."
In school and throughout today's culture, kids absorb the message that no hope or afterlife exists. "What you see is all there is," they're told. Young people hear that as long as something feels good, they should do it.
Finally, they receive the message that it's judgmental for anyone to talk about sin and the need for a Savior. What an odd and sinful world we live in. And what a hard place to grow up in as a child and teenager.
So as a church, we must embrace every opportunity to praise our younger generation. It's crucial that we take intentional steps to affirm, encourage and celebrate children and youth. And we need to do that together, as part of the fellowship of believers we call the church! With so many members of the next generation lacking strong role models at home, it's even more important that we serve as a covering for children in God's family.
One easy but memorable way to do that is with a Sunday school graduation ceremony or event.
Opportunities abound with Sunday school graduation
Holding a Sunday school graduation event at church is an opportunity to encourage  children and youth. At our outreach center, we recognize graduates from kindergarten and elementary school all the way to college. Recognizing young people during or after a Sunday morning worship service is a wonderful way to affirm, encourage, praise, bless and celebrate them.
The attendance and visible support of church members sends a message loud and clear to children that they're important. It reminds them that they're made in God's image and that Christ offers them hope. Plus, kids get to see that the church body cares for them in ways no one in the world ever can.
I hope you'll seize the opportunity to encourage children and youth by recognizing them at a Sunday school graduation. In fact, it sounds like something Jesus himself would do!
This article originally appeared here.