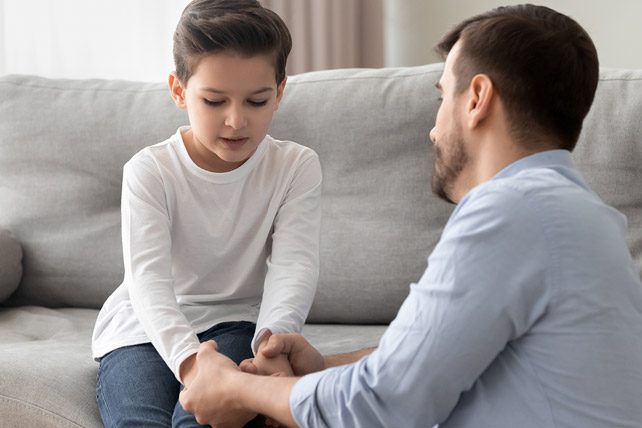 When the world seems to be falling apart, our kids need us to have family conversations, not avoid them. After finding out about Russia invading Ukraine this past week, one of our children said "I'm scared" as I was tucking them into bed. They had heard about the situation at school and we had discussed it that night over dinner.
When their world gets shaken, kids need parents who will not simply gloss over the realities of the broken world we live in but will help them navigate it through a spiritual lens. Here are 3 practical ways to lean into family conversations about Russia and Ukraine with your kids.
Lean in with CLARITY.
Kids have questions. We need to give them answers from a biblical worldview. We live in a fallen world where people are driven by real evil, greed, and power. This is nothing new. If our children are old enough to ask the questions, they're old enough to understand this. And when it happens on such a global scale as it has this past week, no one is left untouched by it, even our kids. 
But evil men and seducers shall wax worse and worse… (2 Timothy 3:13)
We can help our children understand that the same evil, greed, and power that harms the world can also harm our own family and friendships when it comes from our hearts. Sin always destroys. 
Lean in with COMPASSION.
More than ever before, Ukraine needs our prayers and support. There are many believers within Ukraine who are prayerfully standing fast in the midst of it all. As Christians, we can pray for Ukrainians' safety, their success, and even their salvation. Times like this can and will be used by God to turn people to him. 
I exhort therefore, that… prayers… be made for all men… For this is good and acceptable in the sight of God our Savior; Who will have all men to be saved, and to come unto the knowledge of the truth. (1 Timothy 2:1,4-5)
Compassion helps us and our kids place ourselves in the shoes of Ukrainian parents and children who are living with the life-changing realities of this war. A good question to ask your kids is this, "If you were in their shoes, how would you want others to be praying for you?" This is all an important part of properly teaching our kids how to respond to tragedy.
Lean in with CONTEXT.
One of the best things we can do in times like these is to help our kids understand the context of the bigger picture at play through world events. When we see such things happen in a broken world, it should remind us that one day Jesus will come and make all things new in his forever kingdom! And we can be a part of that eternal kingdom if we have believed in Jesus Christ as our Savior. Times like these are a beautiful way to point our kids to Jesus and his big story that is unfolding in the world.