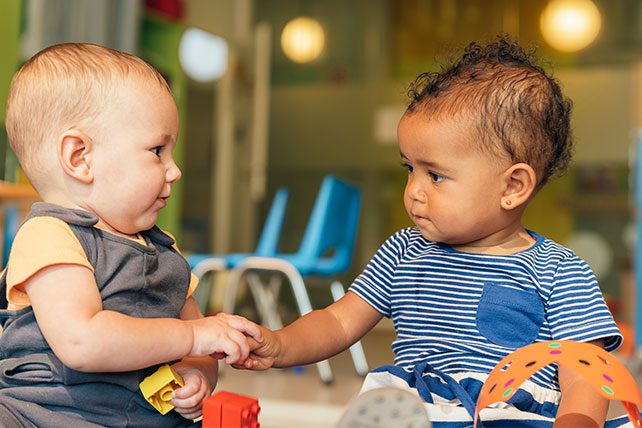 Bible lessons for toddlers are so important because little children are so important to Jesus! He wants the littlest ones to come to him and learn about his great love. (See Matthew 19:14.) Children's ministry workers, teachers, and parents have the privilege of making that happen!
Whether you're teaching toddlers at home, in the church nursery, or during a preschool Sunday school class, these tips are for you. Use the guidelines below to tailor your Bible stories for toddlers to kids' specific needs.
Bible Lessons for Toddlers: How to Teach Young Children
Many of the tips for teaching preschoolers also apply to teaching toddlers. An extra dose of patience may be required for the short attention spans of young tots. Allow lots of space for kids to get their wiggles out. Use Bible songs with short phrases and easy motions. Also remember to use age-appropriate language and to repeat simple phrases.
Toddler Sunday school classes help introduce children (and families) to the church. So model the fruit of the Spirit, including love, joy, patience, and kindness. Hold up a Bible when you're reading Scripture, and provide kid-friendly Bible picture books for students. Most toddlers enjoy basic object lessons and finger plays. Some will be ready for simple crafts, as long as they have lots of adult help.
Most of all, smile and have fun while teaching Bible lessons for toddlers. Let children know that our good God made them and loves them dearly!
8 Resources: Bible Lessons for Toddlers
Get started with these online resources for toddler Bible lessons:
First, check out Sermons4Kids. Some of the free Bible lessons are simple enough to use with toddlers. This love-themed lesson is based on 3 John 1:4.
This website now offers free curriculum customized for infants and toddlers.
Adapt these interactive Bible lessons for your children. You also can access some Bible songs for teaching God's Word.
Help young kids explore God's Word with these free downloadable lessons. They're tailored specifically for children ages 5 and under.