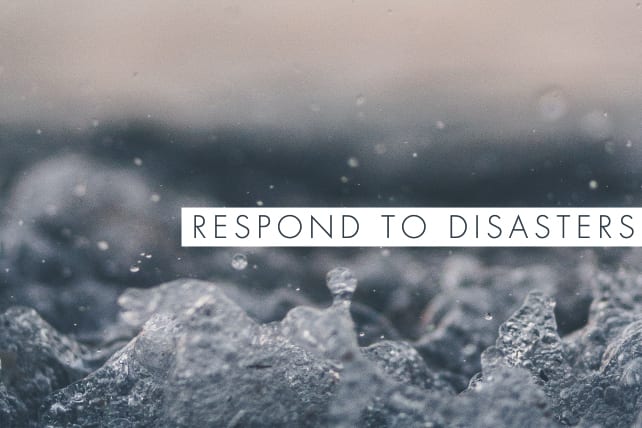 I hope your community never faces a crisis, but the reality is that most do of some sort or another. Last week our community was challenged after Hurricane Irma roared through. We were blessed that we were spared the catastrophic damage that other parts of the states and the Caribbean experienced. However, between power outages, storm damage and clean up, our town needed some assistance.
I wanted to share one way that our children's ministry responded in hopes that it will be a resource for those of you who may find yourself needing to serve your community in a crisis situation in the future.
However, I can not even begin describing our logistics without making it very clear that I am blessed with incredible friends and leaders who really took the lead on this and made it happen. I was in Tennessee during the hurricane. I literally said to one on the phone, "Here's what's in my head, but I'll be driving and cannot get it together." Jeanna Stinehefler and Brandi Spencer totally ran with it and did an amazing job. You may not know them, but please take a second and thank God for their faithfulness.
1. Recognize the need. Following the storm, our local public school system decided they would resume on Monday. We quickly realized there were many parents who would have to return to work and not have childcare for their children. Our team decided to host a half-day playdate and then a two-day day camp to help working parents, but also parents who were struggling to clean up and recover from the storm.
2. Recruit volunteers. First, we had a couple of rock star leaders who agreed to coordinate and own the camp. (I'm not exaggerating when I say rock stars…they totally owned it from beginning to end. I was traveling and literally showed up to help). Since we were dealing with limited time, we could only recruit from church members who have already been background screened. We didn't have the time or ability (our church office was closed) to run any new screens. We created a schedule on Sign Up Genius and immediately sent it out via text and email to all of our Sunday, Wednesday and special event volunteers. We divided each day into three shifts so that volunteers only had to serve three hours at a time. Of course, they could serve additional shifts if they wanted and we are so glad that many did! Our volunteers totally stepped up. This camp provided a unique place for our people to serve in our hurting community and our volunteers jumped on it.
3. Set a limit. My heart wanted to take in every single kid in the community who needed a place to go. The reality was there was a limit on what we could logistically plan for and handle in such a short amount of time. We had a good number of people volunteer, but so many of our own people were struggling with clean up, power outages, etc… Their availability was limited. We created a registration form on Wufoo and chose to cap the attendance at 50 kids. We wanted to only do what we could do well without sacrificing safety or sanity.
4. Get the word out. Because everything was in such a tight timeframe, we began advertising by faith. We waited until we had several committed volunteers, but we couldn't wait until we had every time slot filled. We wanted parents to have time to plan. We advertised by sending a mass email to every contact we had both within our church and families who had attended camp, VBS or other special events. We also sent texts to all the families we had in our text groups through Remind. Finally we posted on Facebook, including posting in a "Hurricane Irma" community group that had popped up.
5. Create a plan. Two 8 1/2-hour days is a lot of time to fill! In fact, our day camp took up more time than a week of VBS and we were planning it in less than 36 hours! Our coordinator came up with a schedule that kept everyone moving every 30 minutes to an hour. One leader created simple crafts that utilized supplies that we mostly already had (stores were opening slowly due to power outages). We divided into three big groups: Pre-K/Kindergarten, 1st-3rd grades and 4th/5th grades.
6. Share Jesus. The majority of kids who registered do not come to our church and at least half do not have a church at all. We wanted to make the most of this opportunity. I had some sweet friends send me some curriculum, but honestly we were so short on prep time and didn't have time for our volunteers to prepare anything that we had to keep it very basic. We had an opening time, a large group time in the middle, and a closing time in which we made sure that we shared the gospel in fun and exciting ways. Our crafts involved biblical truths. What blessed me the most, though, was our volunteers taking advantage of every opportunity and teachable moment to point kids toward Jesus.
7. Connect with parents. As much as we could we tried to connect with parents at drop off and pick up. They were extremely grateful for the camp and my prayer was that they felt connected enough that when they decide to try a church, they will remember that their kids were loved here.
We had a great time during the fun (and long) two days. While I'm sure there were things that we could have done differently, it was undoubtedly a God thing that it came together the way that it did!
Please pray for the families in our community that continue to recover from Irma's aftermath.
This article originally appeared here.