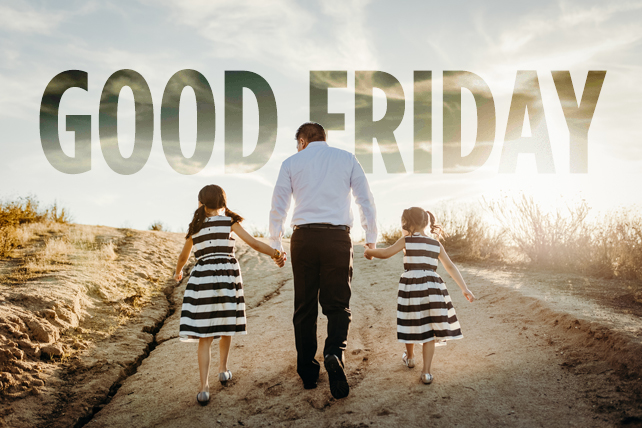 Good Friday Family Experience
This past Easter our church wanted to provide a family event that allowed families to talk about the gospel. We created an event prior to our churchwide Good Friday service. Families walked through at their own pace. They had 10-12 activity and prayer stations where they read scripture, did an activity and talked about it. Parents were able to adapt for the age of their kids.
My friend Kenny Conley did something similar several years ago and you can find his details on his blog.
I wanted to share our stations too in case any other kidmin needed a gospel-centered Easter experience.
Summary of Event:
Parents and children will walk through activity/prayer stations. These stations will walk families through the arrest, trial and crucifixion of Christ with an emphasis on reflecting on our sins and His taking the punishment for our sins.
Station 1: The Fall
Stand at the blue line. Your task is to jump from the blue line to the red line with one jump.
What happened? Did you miss?
Ask: What is sin? (Knowing the right thing to do and not doing it)
We all sin and fall short of the glory of God. We all mess up. This sin separates us from God. Sin is a problem for all of us. God sent His son Jesus to take the punishment for our sin.
Read Romans 6:23.
Tonight we are going to focus on that punishment Jesus took for us.
If you are able, put the rock inside your shoe for the remainder of the journey. This rock represents our sin. Walking around with our sin is not how we were created to be. Sin separates us from God because He is holy. Sin doesn't go away on its own, but like a pebble in your shoe will continue to hinder and bother you. And even worse, it will separate you from God. Tonight we are focusing on how Jesus died for these sins.
Station 2: Judas Agrees to Betrayal
Say: Judas was one of Jesus' closest friends. The religious leaders were mad and jealous of Jesus and wanted to get rid of Him.
Read Matthew 26:14-16.
Sin is when we do things our way instead of God's way. How did Judas choose himself over God?
Count out and stack up 30 of the silver coins. For each coin, name something that we do that is our way instead of God's way.
Talk: Share about a time you know you did things your way instead of God's way. Did you know it right away? Did you feel bad right away or later?
Station 3: Jesus' Arrest
Use the legos to set up a scene like you just read about.
As you build your scene talk about:
What emotions do you think Jesus' friends were feeling? How do you know?
What did one of them do out of fear and/or anger? (Cut off someone's ear)
Do we ever sin out of fear or anger? What are some examples?