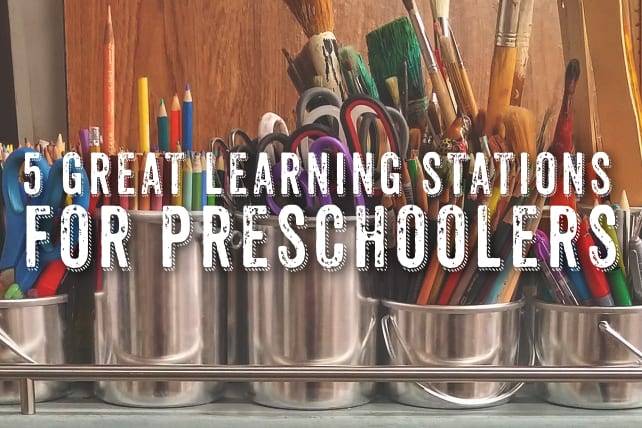 One of the things we love to do in our children's church program is set up stations for the kids to engage with after the lesson. We have a brief five-minute lesson, reading from scripture (this or this are some of favorite Bibles for little ones) and then let the kids engage in their own way through various stations. I have many lesson-specific stations listed on this website, but I wanted to share a couple of our tried-and-true stand-bys as well.
Station #1: Blocks
Whether it's the classic wooden blocks or the more interlocking duplo set, kids never seem to tire of building things. Blocks can be used for the Tower of Babel, Jericho, building a tabernacle and a lot more. You could even add in a few Little People figures to increase the dramatic playing.
Station #2 Coloring Pages

There are endless amounts of coloring pages to be found online (my personal favorites are What's in the Bible and Ministry to Children). We like to give each child their own set of crayons, but some like working from a group bowl of crayons as well.
Station #3 Drawing/Journals
Preschoolers seem to really enjoy illustrating what they have just learned. Whether it is on construction paper (so you can display it for all to see) or in their own journal, this always seems to be a hit with our crew.
Station #4 Play dough
This is another medium that can be used in so many ways. In the lesson above, kids were encouraged to build idols and then destroy them like Josiah destroyed the idols he found. You could have kids bake "bread" like the widow did for Elijah or make an animal that lived in the Garden of Eden. The possibilities are endless!
Station #5 Water Color Painting
There is something magical about using paints, and the preschoolers just go crazy when we bring these out. Sometimes they paint something from the lesson and sometimes they just swirl colors as they listen to worship music. With all the new Scripture based coloring books out there, this would be a great way to help them remember the month's memory verse as well.
What about You?
Are there activities you find yourself doing again and again with the preschool crew?
This article originally appeared here.