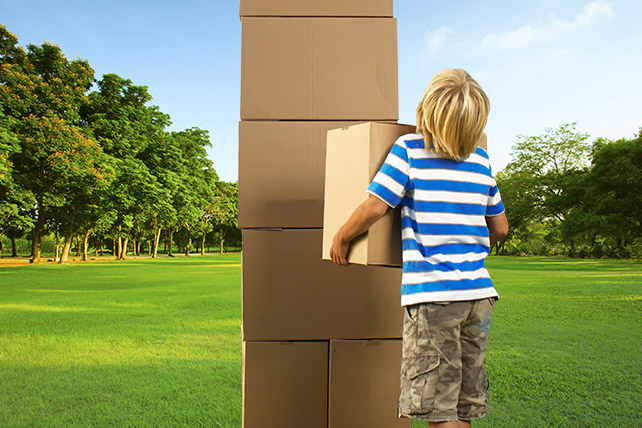 Want to make your worship service or Sunday school class come alive? Use children's church object lessons from the Bible! It's awesome when kids are fully engaged and hanging on every word. They're positioned at the edge of the chair just waiting to see what will happen next.
Kids love to have their minds blown. They'll keep thinking about children's church object lessons over and over, desperate to figure out how everything was done. They'll all be talking about the lesson during Sunday lunch.
Years ago, I was doing a kids' service in our church's main auditorium. My big object lesson was a needle through the balloon. Pretty cool, right? I thought so, but to be sure I tested the illusion. I practiced it and nailed it every time in my office. Then I stepped out onto the stage and proceeded to pop five balloons in succession. I wanted to crawl under the stage and escape out the back. (Needless to say, this is no longer on my list of children's church object lessons.)
Truthfully, I've had a number of hits and about 10 times as many misses. Some children's church object lessons I've tried have rocked; others have landed with a thud. That's why I wanted to share some of our favorites with you. Hopefully, this list will save you some time and help you create a fun, meaningful worship service for kids.
10 Children's Church Object Lessons Based on the Bible
1. Miracle Berries
This is a fun object lesson because most kids, and adults, have never experienced this. It works great when you're teaching on Job or how God can turn around bad situations. All you need are lemons and miracle berries. Miracles Berries are an all-natural tablet that dissolves in your mouth, and it basically changes your taste buds. Things that taste sour become sweet. Lemons become as sweet as oranges, while apple cider vinegar tastes like apple juice.
Choose a volunteer a few minutes before the object lesson. Have the child place one tablet on his or her tongue. Let the tablet fully dissolve. Then have them taste the items right there on stage. The child will start devouring the lemon. It's a great reminder that God can take a sour situation and turn it into something sweet.
2. 8-Foot Appearing Candy Cane
This is one of those children's church object lessons that requires a purchased illusion. It's easy to overuse magic tricks, so I try to sparingly bring them into our services. I do believe, though, that they make an impactful statement. A well-performed illusion is a great addition to an outreach event or a special Sunday.
This is called an 8-foot appearing candy cane. It's made of plastic and rolls up tightly into a cylinder. When fully rolled up, the candy cane can easily fit inside of a small, brown paper bag. Place a regular peppermint stick into the bag, and then pull out an 8-foot tall peppermint stick. The kids have no idea how you got an 8-foot object inside that bag. It's a reminder that God can take something small and turn it into something big. If you're looking for a great object lesson for Christmas Eve or family Christmas service, then this is it.
3. 1-Foot x 1-Foot Boxes
We love one-foot by one-foot brown cardboard boxes in our kids ministry, and probably have a couple hundred of them stored away. You can do tons of children's church object lessons with them, and they work great for building props.
Recently, we taught about David vs. Goliath and built a life-sized Goliath out of 1'x1′ boxes. It stood about 10 feet tall, so we only needed about 20 boxes to make a sturdy tower. As the Bible storyteller stood next to the box it was easy for the kids to get the idea of how tall Goliath stood over David. When the teacher explained how a stone hit Goliath and the giant tumbled to the ground, the teacher knocked the boxes down with force. Boxes flew across the stage. It was a visual that stuck with the kids. You can find these boxes at uline.com for about $0.74 per box.