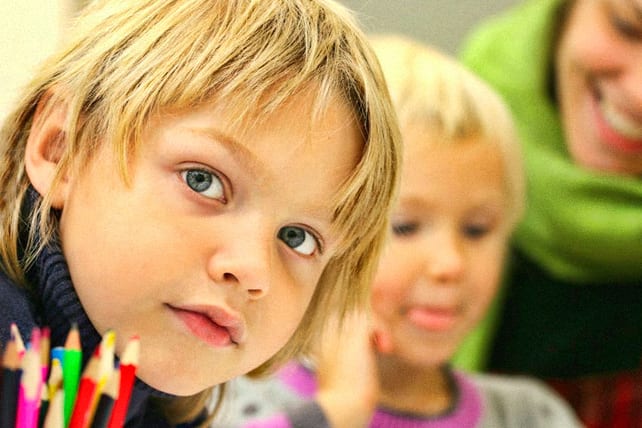 Vacation Bible School can be one of your best outreaches of the year. You can make great contacts with the community, build relationships with the kids in your church, and mobilize the congregation behind the children's ministry. I am a big believer in VBS.
When I began in children's ministry, I didn't believe in VBS. I thought it didn't fit my style of ministry. To me, it seemed like a relic of the past, so I avoided it like the plague. However, I reluctantly agreed to host a VBS at one of the churches where I served. It went well. Not a failure, but also not an enormous success. That continued for a couple of years until I decided to try some things differently.
That summer everything changed and for the next four years, the church's VBS program shot off like a rocket. Our attendance grew to over 300 kids per week (almost as much as our church's total attendance). Many children received Christ, and the church's VBS family service attendance eclipsed the Easter attendance. God did great things!
Every church and situation is different. If you're doing a camp instead of a VBS that changes the dynamics as well. So, take these suggestions and think of how it applies to your church. Here's the principles that helped me create a VBS that worked:
Pray. Okay, I realize that may seem overly obvious. However, when you're knee deep in VBS planning, it's easy to forget that VBS (or any outreach) is first and foremost a God-ordained event. Without Him it doesn't work. That's an undeniable fact. It doesn't matter how great you are at planning, writing or storytelling. The most gifted speaker is inadequate for the job without God's anointing. That's why I began fasting in the weeks leading up to VBS. I tend to eat more when I get stressed. Fasting made me focus on Christ and my need for His help. I honestly believe that when I began fasting that our VBS events turned a significant corner.
Start Early. It's never too early to get started. I often began thinking about my VBS the month after finishing the current VBS. You may not be there yet, but don't underestimate the power of starting several months out. I created a timeline for my VBS where I mapped out when I needed to complete each project. I set a due date for each item and made sure the date was far enough in advance to allow time for changes and unforeseen problems.
Keep It Simple. At the time I lived in the Metro Atlanta area. Most of the families worked and most commuted a long distance to work. A three-hour VBS wasn't going to work because no one could get there by 6:00 p.m. I chose a two hour VBS schedule that ranged from 7:00 p.m. – 9:00 p.m. This shorter timeframe required us to keep the kids moving and reduced the fluff. This was a non-stop, hold on for dear life thrill ride…and the kids loved it. We removed the elements that weren't necessary and condensed parts that could fit together compactly. We decided the small group would be simple: games and snacks. Half the VBS did games while the other half ate snacks. You could reduce the opening and closing session and add crafts, but for us, it didn't work. Check out this post for simplifying your VBS check-in.
Make It Fit Your Style. We excelled at large group services, and I think that a large group service is vital to creating an engaging outreach. We devoted over an hour to the large group sessions. We began with a 30- to 40-minute opening and ended with a 30- to 40-minute closing. These sessions included worship, drama, Bible story, memory verse, etc. Including the drama and Bible teaching in the opening and closing allowed us to use our best actors and story presenters. Don't underestimate the appeal of a large group worshipping together. The drama began in the opening session and ended during the closing. The high energy closing ceremony ensured that we left the night on a high note that had the kids desperate to come back.
Adapt It. Just because you bought the kit doesn't mean the kit is your boss. I eventually began writing my own VBS programs, but I started out by adapting a VBS I purchased from Group. I wrote my own drama, but I used their Bible stories, decor ideas, theme, etc. You can do the same thing, and the great part about doing that is you'll offer something fresh. Kids who have seen that theme before won't be bored and check out.
Mobilize the Church. Get everyone excited about serving. The first couple of years you may have to personally ask every person to join you. Don't trust an announcement in the bulletin to get the job done. After some successful VBS events, you'll be amazed at how the volunteers will begin lining up. People like to be on a winning team.
Take Care of the Volunteers. Train them and bless them. Create a volunteer manual that ensures your volunteers are ready to serve. This will make them feel better, and you'll know that everyone is on the same page (mostly). After the event, create an opportunity to get everyone together. We had over 100 volunteers who served at VBS, and after each one, we hosted a fun event. It might be as simple as a cookout at someone's house or a pool party. As your numbers grow, you might not be able to do something like this, but remember to do something to let the volunteers know they mattered.
Open Up to More Ages. Our attendance grew as we opened up opportunities for younger kids to come to VBS. My thought was that if a parent knew she could bring all of her children to one event, she might be more likely to visit. It required extra work in staffing rooms, but the idea worked. More families attended, and the younger aged classes exploded.
Host a Family Service. The largest win by far was our VBS Family Service. We hosted it the Sunday after VBS ended and saw huge numbers return. At the time we did the service, the church was only running one service. However, we had to add a second service on VBS Sunday to accommodate the crowds. Here are some tips to make it work.
Start announcing it day one
Give something away to everyone who comes
Have a big giveaway
Leave the final VBS drama as a cliffhanger and wrap it up on Sunday
Have the Senior Pastor teach the Bible story
Lead worship in the same style as during the VBS
Create opportunities for pictures and social media posts
It cannot (repeat: cannot) be anything less than the best service you will do the entire year
Here's a sample schedule for a two hour VBS:
7:00 – 7:30 PM: Opening Session
7:30 – 7:50 PM: Snacks/Crafts/Games
7:50 – 8:10 PM: Crafts/Games/Snacks
8:10 – 8:30 PM: Games/Snacks/Crafts
8:30 – 9:00 PM: Closing Session
I created multiple areas within each spot to accommodate all of the groups. So groups were assigned to either Snack A, B, C, D, etc. The same goes for games and crafts. I opted to not do individual rooms and had the kids check in with their group in the main auditorium. The groups then moved from venue to venue throughout the night. If you do opt for a longer VBS or camp then you will probably need individual rooms.
What has been your best VBS or Kids Camp experience?
This article originally appeared here.