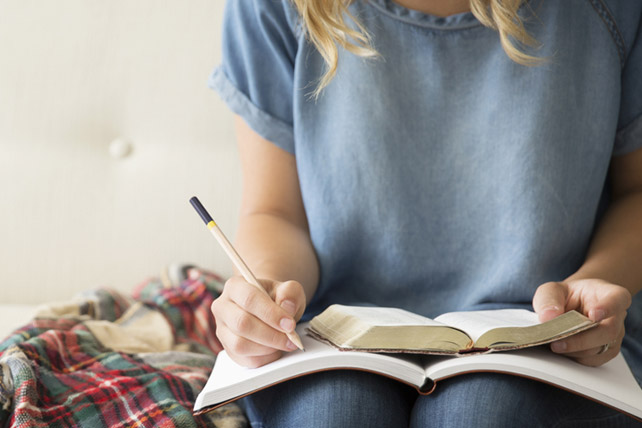 I'll never forget the day a young college-aged girl told me recently that she didn't enjoy reading the Bible and asked if there was an alternative book.
At first, I didn't know what to say. Then I realized she was very serious.
"Well … no!" I thought but didn't say.
The Bible is THE BOOK!
There is no substitute. There are plenty of great Christian books, but none compare to this one.
That wasn't a new concern. I've heard similar concerns many times. The Bible intimidates many people; even those who are avid readers of other books.
I did suggest this girl could listen to the Bible on a CD or mp3. YouVersion will even read the Bible to you. But then I told her I'd give her some more suggestions.
That's what prompted this post. The reality is, I think we need to figure out how to enjoy reading the Bible. Part of maturing as a believer is to fall in love with the Bible.
7 Tips To Make Reading the Bible Easier
1. Pray
The Bible is not like any other book. You need God's Spirit to help you understand and process it. You should always pray before and as you read it. Ask God to help you understand what you're reading—even to help you enjoy it. Good news here! This appears, in my experience, to be one of God's favorite prayers to answer.
2. Version
Pick a version easy for you to understand. I would suggest you read a more literal translation primarily, but the paraphrase versions are good for casual reading. I suggest HCSB, NIV or NLT for a more literal but very readable version, ESV or NKJV if you want a most literal translation, or for a paraphrase version that's extremely readable, try The Message version. I read some of each of these for my studies and casual reading. (I wrote a post on how to select a version HERE.)
3. Sharing
It brings Scripture to life when we can share it with others. Find a small group. That's what church is great at providing. Or find a group of guys or girls at a coffee shop or a couple of people from work. Studying the Scripture with a community helps energize you as you learn. When you talk about what you're reading, it helps you value it more. (Read Philemon 6 for an example of this.)
4. Journaling
Writing about your time in God's Word will help you process your thoughts and keep a record of them. It's exciting to go back over time and remember what you read before. It fuels your enthusiasm to study even more.