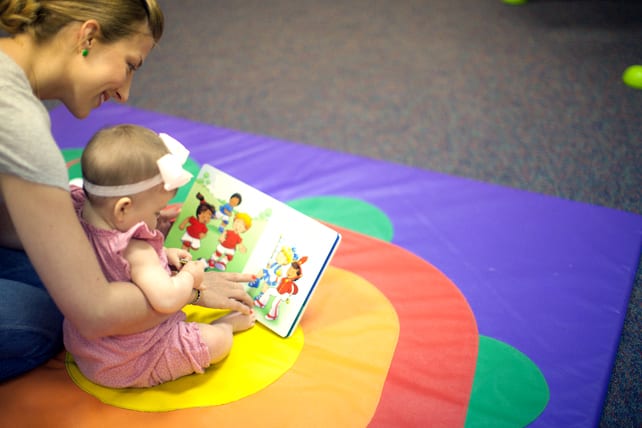 One pet peeve I have is people referring to children's ministry as "childcare."
The ministry that gets the "childcare" label the most often is the nursery.
Because babies can't sing worship songs, respond to questions, read scripture or memorize verses, we put the "childcare" label on them.
But the reality is nursery ministry is one of the most vital times in a person's life. Kids learn more in their early years than any other time. Brain connections are being made. Everything is fresh and new. I believe it is one of the most important times we have to minister to children.
Here's an example. Recently the University of Iowa researched the impact it makes when you acknowledge and respond to babies' vocalizations. They found that when parents are more attentive and responsive to their children's babbling, the children said more words at 15 months of age.
Nursery volunteers, you can make a difference in the lives of babies by talking with them.
I would say a large percentage of churches do not have any teaching or engagement strategies for their nursery. Please don't miss the opportunity to impact children's lives at this stage. Here are some ideas to help you start making a bigger impact through interacting with and talking with the babies in your nursery.
Play an age appropriate worship song and sing to them.
Talk back to them when they babble and share with them how much God loves them.
If you see they are responding or tracking with something in the room, use that object to share a biblical principle. For an example, if the child is pointing at a toy in the room, hold it in front of them and tell them God made everything, including the toy and them. Then tell them they are special to Jesus.
Read an age appropriate Bible story book to them. Watch for certain things in the book that they point to or respond to. Expand on the picture or object they are focusing on.
Read a Bible verse to them. Here's a great way to do this. Pick out one or more Bible promises and paint them on the walls (or you can use a banner or stick on letters) of your nursery and preschool rooms. Pray the Bible promises over them each week they are with you.
Hold a small Bible in front of them. Point to the Bible and say "The Bible is God's Word. It is true and you can always trust it."
These are just a few of the ways you can impact kids in the nursery. So let the baby talk begin.
This article originally appeared here.