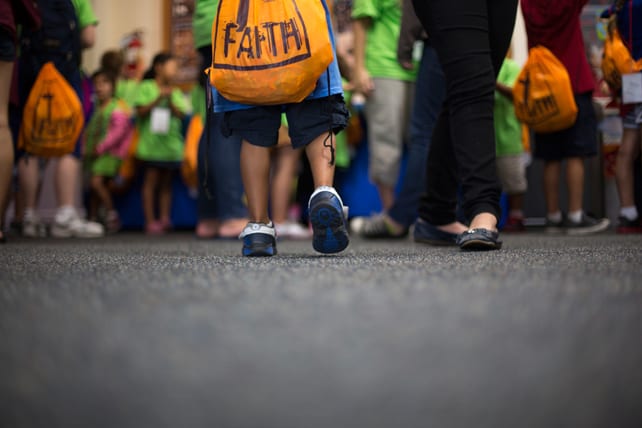 Are you looking for a back-to-school lesson for your Children's Ministry? One fun way to get kids back into the swing of things is by doing a "Blessing of the Backpacks." This special blessing is typically done the Sunday before school starts. Kids bring their backpacks to church and during the service the pastor asks the kids to come forward with their backpacks and he or she says a special blessing over them.
One year I wanted to do something a little more than just saying a blessing over them. So, I decided we would tie the "Armor of God" in with our Blessing of the Backpacks.
During Large Group Worship in Kidz Church, we learned about the Armor of God found in Ephesians 6:10-18. We explained each piece of armor and what it meant. After this, we dispersed the small groups to different stations where they actually made some of the armor pieces. Other pieces of the armor they brought from home. Here is what we did:
Belt of Truth
Cut banner paper long enough to fit around their waist. Write "Truth" really big on front and then have kids color and decorate their belts. Put the belt around kids using tape or a stapler.
Breastplate of Righteousness
Each child brought their backpack from home. They placed their backpack on the front of their body to act as their breastplate.
Shoes of Peace
Each child was given two peace signs made out of cardstock. They decorated their peace signs then tied them around their ankles using yarn.
Shield of Faith  
We pre-cut shields out of poster board. Each child took a shield and wrote "Shield of Faith" really big in the middle. They could also decorate these if they wanted.
Helmet of Salvation
Kids were asked to bring their bicycle helmets to church. They took a piece of duct tape and wrote "Salvation" on it and put it on the front of their helmet.
Sword of the Spirit
Have kids bring their own Bible from home to carry with them, or give them one from the church to carry. God's Word is their Sword of the Spirit.
Each child then put on all their armor and entered the Sanctuary where our pastor prayed a special blessing over them. The kids looked awesome! It was cool to see so many kids standing at the front of the church with their full armor on. They were equipped and ready for all that the school year would bring.
I'm praying that each of the children in your church and in your family puts on their armor of God as they begin a new school year.
"Put on the whole armor of God, so that you may be able to stand against the wiles of the devil."  Ephesians 6:11
This article originally appeared here.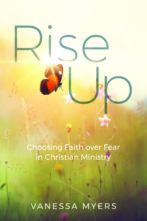 Don't miss Vanessa Myers' new book Rise Up: Choosing Faith Over Fear in Christian Ministry.