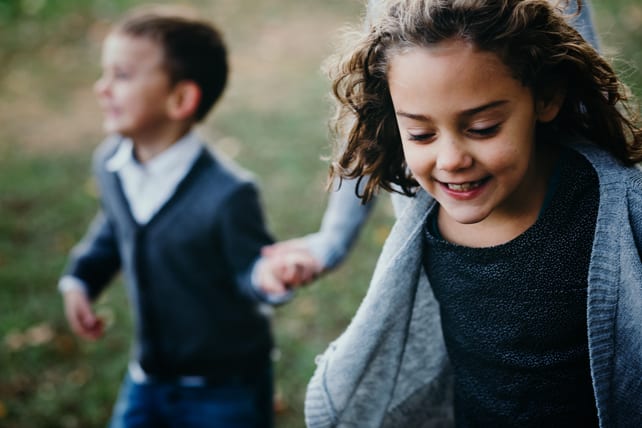 I heard someone say once, "Show me your five closest friends, and I'll show you your future." That's why we need to help kids build friendships.
While I don't believe that is 100 percent true, it does make an important point: We are very strongly influenced by the people, especially peers, we spend the most amount of time with.
And that is why we believe it is really important in the Kid's Ministry at our church to create space for and help kids form relationships.
Key times for this are before the Large Group and after our Small Groups when kids have freetime to hangout.
We've been really intentional in making things available that encourage kids to come together.
Here are seven of the activities available during or pre/post-service times that help kids build friendships.
1. Kids build friendships with Foosball.
Kids young and old love to team up and play foosball.
Relationships go two ways: Teammates bond, and the competing teams bond (although sometimes our volunteers have to step in and gently remind them of this fact).
A great place to purchase a foosball table for next to nothing is on Facebook Marketplace or Craigslist.
2. Kids build friendships with Air Hockey.
Kids love this classic game!
We even provide four air hockey "sticks" to create even more room for kids to come together.
I've even seen pentagonal air hockey tables where up to five kids get their own goals (if you can find one that's affordable, which we haven't, you should go for this option).
Again check out Facebook Marketplace or Craigslist for people practically giving these away.
3. Kids build friendships with Arcade Basketball.
Nothing starts (and sometimes ends) friendships like a few rounds of arcade basketball.
You can start your search on Facebook Marketplace or Craigslist, but I always see online sales for these that are well under $100.
4. Kids build friendships with Jumbo Legos.
This is probably the most expensive item on the list, but also among the most popular with the kids in our church.
You can grab them off Amazon here.
Basically these are giant legos that our kids, especially our boys, love to get together and build giant towers, forts, etc.
As kids decide want they want to build and then work together to do it, great relationships are formed.
5. Kids build friendships with Wii.
I know there are mixed opinions on video games in church, but this is something that our kids absolutely love doing together and it really does help them bond.
The two most popular games are Mario Kart and Super Smash Bros.
Girls tend to like Mario Kart more, and boys tend to like Super Smash Bros. more.
You can get the Wii and games on the cheap by visiting Ebay.
6. Kids build friendships with Board/Card Games.
We have a bookshelf filled with different board/card games that some of our kids love to play.
Here are some of the most popular: Connect 4, Uno, Checkers, Beanboozled, Apples to Apples Kid Addition, Pie Face and Jenga.
This is also popular with our volunteers to engage kids who are more shy or withdrawn.
All of these games can be purchased at Amazon, Target, Walmart, etc.
7. Kids build friendships with Chalkboard Wall.
Our more artistic students love to have an entire wall as a canvas.
Every week we see kids coming together to draw side-by-side.
This is another great option for kids who are more shy or withdrawn to have an opportunity to ease into getting to know other kids.
The paint is relatively inexpensive at Home Depot or Lowes, and if you purchase dustless chalk, cleanup isn't all that bad.
Application Question: What one to three of these options could you implement within the next month?
Add to the conversation: What activities do you have available at your church that encourage relationships to form?
Share: If this post was helpful to you, pass it along by sharing with one person you believe would benefit.
This article originally appeared here.