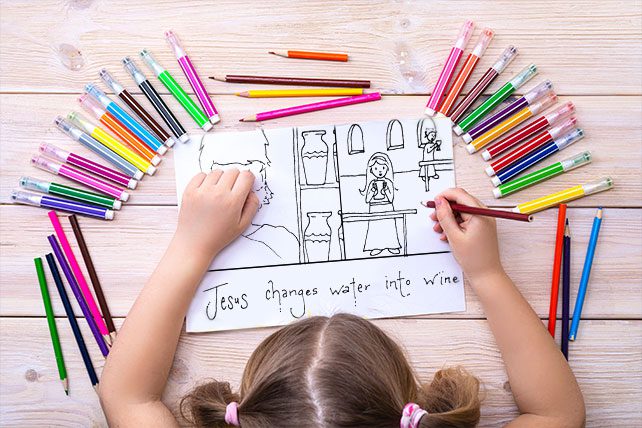 A water into wine coloring sheet is a great addition to lessons about Jesus' miracles. Sunday school kids will enjoy coloring the sheet at the end of class. Or you can send it as a take-home paper, and kids can share the story with their family.
Jesus performed his very first miracle at a wedding in Cana (John 2:1-11). Tell children Jesus did that miracle in response to a request from his mother. Describe how large the jugs were, and how the custom was to serve the best wine first.
During a lesson on Jesus' miracle at Cana, talk about the impact of his actions. When Jesus turned water into wine, people knew that he was God's Son. So then they praised and worshiped him! After that, Jesus performed many other miracles. He healed people (including children) and even raised them from the dead!
Water Into Wine Coloring Sheet
Download and print this cute coloring page. It tells the amazing story of Jesus' first miracle. He amazed everyone by turning water into wine at the wedding at Cana. And it was the best wine at the entire celebration!
From Ministry to Children: "This free printable can serve as both a coloring page and sequence Bible story illustrations."
The download page includes directions for downloading and tips for teaching.
Coloring sheets are incredibly versatile. You can include them in children's worship bulletins. Or mail them to kids to invite them to come to Sunday school.
Resource provided by Ministry-to-children.com
Download Instructions: To download these resources, right-click on the appropriate link (e.g., "story page | PDF | jpeg" or "second page| PDF | jpeg") and choose "Save As."
We hope you and your children enjoy this water into wine coloring sheet. Print as many copies as you'd like. Pro Tip: Include your church's contact information too!