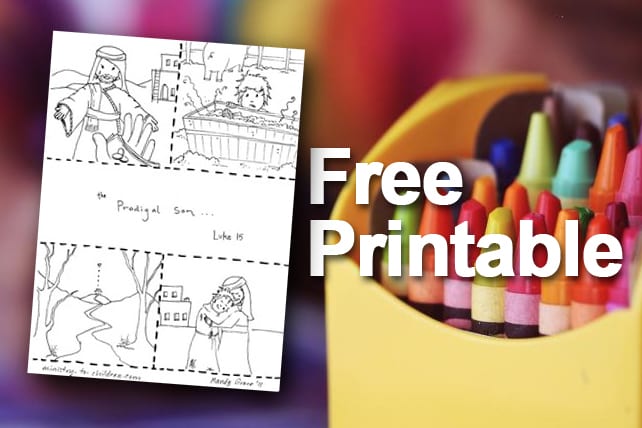 When your Sunday school class, children's church or small group is learning about Jesus' parable of the prodigal (or lost) son (Luke 15:11-32), use these free prodigal son coloring pages that kids will enjoy. Keep them handy as extra time-fillers at the end of a service or class. You also can send them home with students as take-home papers.
Prodigal son coloring pages will help children remember the parable and its key points. These include the fact that God our Father forgives us and runs to welcome us back home. Download and print them to reinforce these important lessons from God's Word.
Louie Giglio says the Prodigal Son parable is all about the glory of God. "The glory of the story has never been the son," he says. "The glory of the story is the father." The Luke 15 parable, Giglio adds, "was always about the father who would not take no for an answer." That father "with outrageous grace received his son back from the dead, celebrated him and reconnected him into a future story."
By teaching the parable of the prodigal son, you're conveying this lesson, according to Giglio: "God is a God of relentless grace and the outrageous pursuit. That God is a God who is unlike any other god."
Download the Prodigal Son Coloring Pages Now
To download these free coloring pages, right-click on the link that says "download the printable PDF." Then choose "Save As." Print as many copies as you need for your church's children and their friends.
The sequenced format of the coloring pages is ideal for helping children process the events that occur in Jesus' parable. The main page has four panels that illustrate the events of Luke 15. Kids can even create a poster or story board by arranging and gluing the panels in order.
These prodigal son coloring pages are a resource provided by Ministry-to-children.com