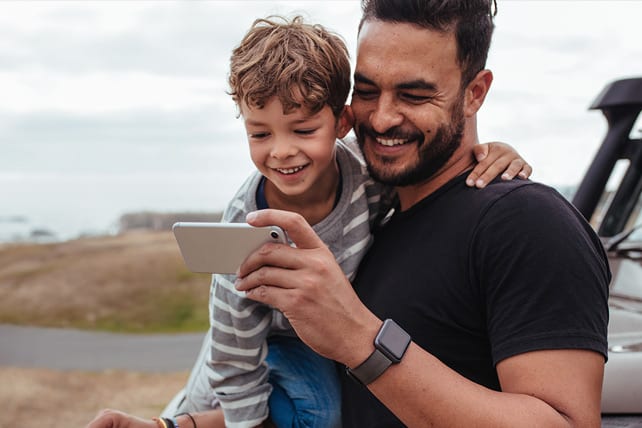 [Fifty] years ago Larry Norman wrote the Christian rock anthem, "Why Should the Devil Have All the Good Music?" Today we should be asking the same question about social media, web content, and apps for families — what's the state of Christian digital resources today?
Digital Resources for Christians
Well, of course, the devil doesn't have all the good stuff. Christian tech entrepreneurs have been busy all over the Interwebs producing and sharing great content. It's a theological stretch, but perhaps the "great cloud of witnesses" in Hebrews Chapter 13 might now include the 10,000 creators of Christian online content. But that's a lot of content — where do you start? We're thrilled to highlight some of the best the web has to offer in Christian websites and apps. Here are a dozen outstanding, proven examples of Christian digital resources:
MARRIAGE & FAMILY HEALTH
For Every Mom
For Every Mom was [founded] on the belief that being a mom is amazing, wonderful, fun and beautiful. It's also frustrating, exhausting and just plain hard. Motherhood is the hardest job ever, but it's also the best job ever — the pay may be low, but the payoff is priceless.
Editor Bri Lamm says,
We made For Every Mom because we wanted a place online where women could experience the essentials of motherhood: Jesus, laughter, community, and really awesome parenting tips. This is a place where we're all in it together: working moms, stay-at-home-moms, stepmoms, adoptive moms, foster moms, single moms, married moms, new moms, and experienced moms. We may be at different stages of motherhood, but every mom is a full-time mom.
National Center for Biblical Parenting
This very helpful Christian parenting website offers books, videos, and live conferences to help Christian parents. Their section on developing your church's parenting ministry is a great resource for pastors or family ministers to help Christian parents.
Proverbs 31 Organizer: This app is a daily organizer for busy Christian women, based on Proverbs 31. It provides many features including a checklist, alerts, scheduling tools, and notes. You can also set priority levels for each task. Find it on iPad, iPhone, Android, and Kindle Fire.
Of course, Focus On The Family remains the leading Christian parenting website. They offer guides on child development, health and safety, discipline and parenting stages. Their daily radio program is a virtual seminar on Christian parenting.
ENTERTAINMENT
Pureflix
The PureFlix app provides a family-friendly alternative to the usual Hollywood content available on other streaming services.
PureFlix is a Christian movie studio that produces, distributes, and acquires Christ-centered movies. Their vision is to influence the global culture for Christ through media. Their mission is to be the world leader in producing and distributing faith and family media. From their website:
Since day one, we continue to strive to make a difference for His name. Hollywood has played a major role in shaping our current culture by controlling most of the media we experience today. We challenge you to stand up for Christ and share these heartfelt movies with your families, friends, communities, and church to impact our world for Christ.
It's everywhere: iPad, iPhone, Android, Roku, Chromecast, Amazon Fire TV, and Apple TV.
JellyTelly
JellyTelly is an online video and game network for families, developed by VeggieTales and "What's In the Bible?" creator Phil Vischer. As a faith-based alternative to other children's entertainment, JellyTelly provides families with a safe place to learn and play online and help raise the next generation of Christians. JellyTelly hosts faith-based videos, games, and devotionals created and curated to entertain your children while teaching them about God and faith. JellyTelly provides a safe place for your kids to access worthwhile faith-based entertainment via desktop, mobile apps, and Roku.