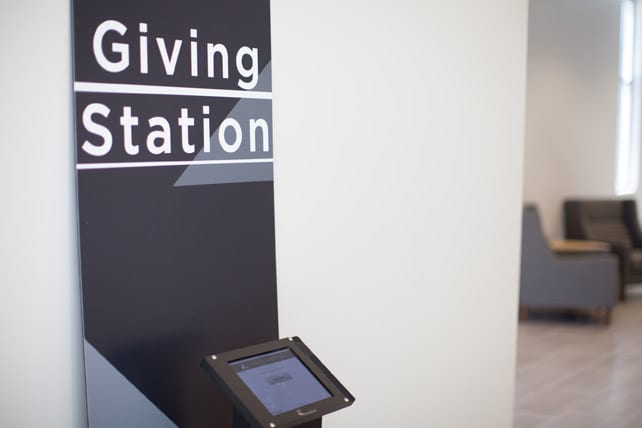 Even while the Church's mission remains unchanged throughout all generations, its practices will always be subject to change. For example, tithes and offerings: these days, those people in the seats who pass the offering plate without dropping in a check are still giving—often more generously than ever before! In our increasingly digital age, church online giving platforms have become a popular option for churches looking to connect with members who no longer carry cash or checks to church. If you want to maintain consistent levels of giving at your church, don't let the offering plate pass them by without presenting an alternative way to give.
Church online giving platforms offer your members a convenient way to give, and also encourage consistent giving each week. Churchgoers have the freedom to decide how much they want to donate and how frequently, and even have the choice to automate their giving by setting up recurring gifts. From debit cards to credit cards to automatic bank withdrawals, church online giving platforms make tithes and offerings easy for everyone.
There are some great giving platforms to choose from that can be tweaked to fit your church's specific needs. But with all the options out there, how do you know which one is right for your church?
We've rounded up our five favorite church online giving platforms to help you provide your congregation with the option to give online and mobile.
Church Online Giving Platforms – 5 Great Choices
1. Secure Give
SecureGive has a 15-year track record of helping churches grow their giving to further their missions. With cutting edge technology, expert implementation, and biblical stewardship strategy, you're resourced to grow giving in a sustainable way.
The five-platform digital giving ecosystem is built to make giving easy for anyone at any time, driving engagement to the next level.
Every church can create a custom plan to implement the tools that will serve their specific needs, including online, mobile, text to give, giving kiosks, and check scanning with automatic bank deposit. These five platforms are managed from a single place making reporting easy and saving administrative hours.
From a pricing standpoint, SecureGive stands out among church online giving platforms by providing tremendous value. Tiered monthly plans paired with industry-leading transaction rates (1.75% for debit and 2.5% for credit, plus $0.30) keep costs low, which means more money goes directly to ministry. Secure Give provides unique giving kiosks that drive rates even lower: 1.5% for debit and 2.0% for credit.
SecureGive has built their platform with an emphasis on enterprise-grade security and infrastructure: donor information is safe, proving (as their website says) "confidence your church can always give with a 99.999% up time."
SecureGive provides a one-stop, full-scale digital giving solution, world class client support, and in-depth resources and coaching to ensure your churches giving is easy and growing.
2. mobileAxept
The people at mobileAxept saw the future as far back as 2006, when they developed the first of their church online giving platforms. Client focus is in their DNA. They pride themselves on availability from the moment of first-contact, mobileAxept is available to provide adoption strategies, answer questions, and troubleshoot by phone or email. One user remarked: "We signed on the dotted line and their team stayed with us each step to be sure our roll out was a success, helped us trouble shoot with our less-tech-savvy-members and they continue to check on us to be sure we are pleased."
mobileAxept provides solutions that make giving, communicating, and connecting effective and convenient for ministries and congregations. As the world continues to move toward a digital-payment-only society the need for ministries and congregations to adapt has never been greater. A Norwegian pastor saw this trend and pioneered mobileAxept text giving for his church in 2006. He knew the world was changing and subsequent studies proved, that when giving is convenient, more people give. Soon, pastors around the world sought out his text-to-give solution for their churches and their GiveNow product is considered by some as the gold standard for churches everywhere.
Now headquartered in Minneapolis, MN, mobileAxept serves some of the largest and fastest growing churches in the United States. In addition to their GiveNow product they have added ReachNow and ConnectNow to their suite of services. Combining mobileAxept's solutions allows ministries to increase engagement with their members and visitors.
3. PushPay
In addition to the features you'd expect in a mobile giving app, PushPay's website also touts a management tool: their "Donor Development" feature.
"A complete, robust dashboard that harnesses your giving data to show you where every member of your church is on their giving journey with your church. Not only can you view the complete picture of your donors, you can see individual donors and get customized next-steps to help you invite those people into deeper participation with your church, all thanks to intelligent features like:
An at-risk donor view that helps surface the people who need pastoral care
A comprehensive view of donor health at your church
Customized next-steps for individual donors (with recommended actions and resources)
PushPay does strong work in connecting people's stories with the nuts-and-bolts of giving and mobile security: Pastor Danny Anderson of Emmanuel Church in Greenwood, IN, set out to raise $50,000 to support an orphanage in Haiti. Since they were already using PushPay to collect donations and offerings, they were able to easily add this need as a potential fund for people to contribute toward.
Even though Emmanuel was firmly resolved to make this dream a reality, they were not prepared for the response. The simplicity of using PushPay to make donations, coupled with the ease of sharing the cause with friends, helped the drive spread like wildfire. Within 24 hours of kicking off their campaign, they had raised nearly half of the needed $50,000 through PushPay. And by the time the campaign was over, they'd raised more than $100,000! For a full list of their features, please see their website.
4. easyTithe
Providing donors the power to easily manage giving benefits your ministry as much as the ability to give online is a strong point with easyTithe. With the mobile app, donors can create recurring donations in seconds. Inspire spontaneous generosity on-site by connecting with your donors and prompting a one-time gift for a specific fund or goal.
In a few short steps, your donors can download a mobile giving app that will save their information and allow them to manage their one-time or recurring donations in seconds. Mobile donations have never been easier than with the powerful and easy mobile giving app from easyTithe. With the iOS or Android App, donors can manage their online giving directly from their phones. Members can update payment methods, select specific funds, and manage the frequency at which they choose to give.
Their Resources section provides an abundance of resources to help churches promote and donors use the mobile giving app. This includes access to posters, support, how-to documents for members, bulletin inserts and social media graphics to help share the message about your mobile giving app with your donors.
Their Mobile Giving App is free with all easyTithe plans, providing
Donors can give on their iOS or Android Device
Saves payment information so donating on-the-go can be done in a matter of seconds
Review giving history easily from the overview
All the capabilities of donating online made even easier with a local mobile app.
easyTithe also integrates with the MinistryOne ChMS app
Using a Mobile Giving App with your church's giving platform can help you reach your mission goals. Check out easyTithe.
5. TouchPoint
TouchPoint is a powerful cloud-based church management system that equips leaders to grow fully devoted followers of Christ. TouchPoint is designed for mid-to-large churches looking for a ChMS solution that is off-the-shelf AND customizable.
Its best-in-class fully-integrated mobile app helps with contact records, membership management, volunteer management, child check-in, discipleship groups, ministry engagement, contributions, events, and media.
TRAINING: TouchPoint offers remote webinar-style online training. They also have the capability to come on-site for more personalized training (which is optimal for churches with a larger staff). They also offer extensive online documentation and on-demand training videos support users at any time.
DATA CONVERSION: If you are concerned about the conversion process in implementing a new system, TouchPoint developers are skilled at moving your existing data into a new database with minimal loss.
MOBILE APP: TouchPoint currently offers the only church app that lets you manage and communicate with your congregation in a unified, compelling experience. Members can update their profile, register for events, see giving statements, update their communications preferences, find a small group, and more! Communications staff love the ability to schedule sliding banners that announce important news to your congregation. Pull in media audio/video feeds from wherever they are hosted (YouTube, Vimeo, Soundcloud, Apple podcasts, etc.).
Like so many new technologies, now is the time to rethink your church online giving platforms, both online and mobile.