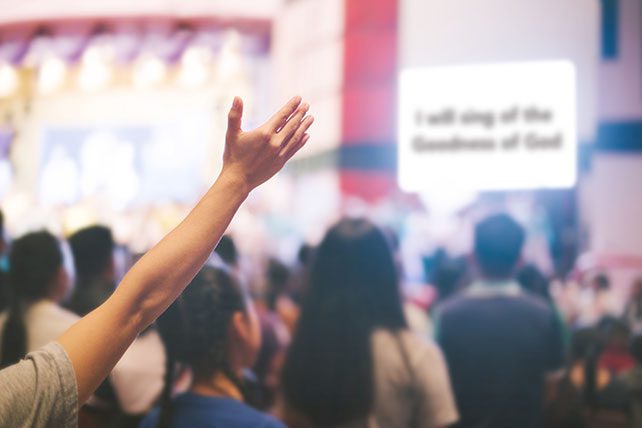 Whether your church is running a live stream for viewers at home or in other remote locations, or you have a projection screen in the church and want to display lyrics to hymns or scripture, you can do so easily using EasyWorship and NDI output functionality for vMix or OBS, which are popular live streaming software programs.
Use NDI Camera to Feed Directly Into EasyWorship
If you want to display lyrics on your camera feed, you can use the feed editor to bring your NDI camera feed directly into EasyWorship. When you do this, you will be able to use your PTZOptics NDI cameras as the background for your lyrics. You can then send the entire video feed with the lyrics to any software that supports NDI. This is a simple way to add lyrics to any live stream.
USE NDI Output of EasyWorship and Pull Alpha Channel Video Feed to Live Stream Software
Another way to display lyrics on your camera feed is to use the NDI output of EasyWorship and pull the alpha channel video feed directly into whatever live streaming software you use, as long as it supports NDI. This may be even more flexible as an option.
If you use streaming software that supports NDI, such as OBS, vMix, xSplit, or Wirecast, you can use this approach to display your lyrics. First, you will go to the settings in EasyWorship and set your video output to NDI. Once you do, any of the slides that you are displaying will be available in the video production software.
If you are using OBS, you can click the plus button to add the EasyWorship NDI slides as an overlay onto the video. You can actually add a name for the input so that anyone can control when the lyrics are shown. This way, you will ensure that display lyrics show up during the hymns at the correct intervals.
Once you have the system set up, you only need one person to manage the display lyrics. This person will click the "Go Live" button inside of EasyWorship for each lyric slide when it is time for the slide to be displayed.
What Is EasyWorship?
EasyWorship is a software solution that allows churches to produce live streams and broadcasts of church services. It includes features to include song lyrics, scriptures, announcements, videos, and sermon notes.
This program has many features and tools to provide controls over the broadcast. Churches can better engage with congregations and outside viewers when they live stream because there are tools and features that allow for customization and personalization.
This software has an intuitive interface that allows for easy use. It has tools, song lists, photos, videos, media editing, and media preview windows in easy-to-find locations, and these features can be customized to suit each church in the best way possible.
The software also allows for churches to organize media in multiple libraries with tags for simplified search options. It supports the data sharing among users on the same networks, and administrators can control which files need special permissions.
Understanding How These Systems Work
When you are setting up a video production system to live stream and broadcast your church services, it is important to decide what capabilities you need before you get started. For example, if you know that you will want to include an overlay of lyrics or Scripture during the broadcast, you will want to make sure that you have the right equipment to make it happen.
If you use PTZ cameras that connect remotely to the control station and monitor, you will be able to do this. NDI is a protocol that is used to send video and audio over the network. When you have an IP only camera, you need the IP addresses to sync with the rest of the network and work together. NDI cameras will all show up at the same time on the same camera. It simplifies the entire process.
As a result, your NDI cameras will feed directly into EasyWorship. You can then use the video as a background for the lyrics. Because every NDI device works together in real time, you will be able to send the video feed to the output source with the lyrics.
It is important when you are using other video production software as well. The video output needs to be set as NDI, and then any slide will be available in the video production software. You can add the slides with the lyrics from EasyWorship as NDI slides that are an overlay for the video.
Final Thoughts On How To Display Lyrics On Your Camera Feeds
Being able to add lyrics or Scripture to your live stream can really increase your audience engagement. Whether you are broadcasting your service to a projection screen in the front of the church or you are live streaming out to the Internet for people to watch from their homes, adding the lyrics helps your viewers to stay engaged.
The EasyWorship software is designed to improve live streaming your church services, and it is very easy for many different people to use. Often churches do not have a lot of extra manpower. They rely on volunteers to operate the video production system, so it is important for these features to be easy to control. EasyWorship is easy to use. Your lyrics can be set up as NDI slides on EasyWorship, and they can be integrated into your video and audio feed. This can be done using EasyWorship, or it can be done with your video production software. Once you set up your slides, you can seamlessly integrate them into the broadcast. People will be able to see the lyrics and sing along with the hymns. You can also show Scriptures from readings or portions of a sermon. There are countless options when you are live streaming your service.
This article originally appeared here, and is used by permission.