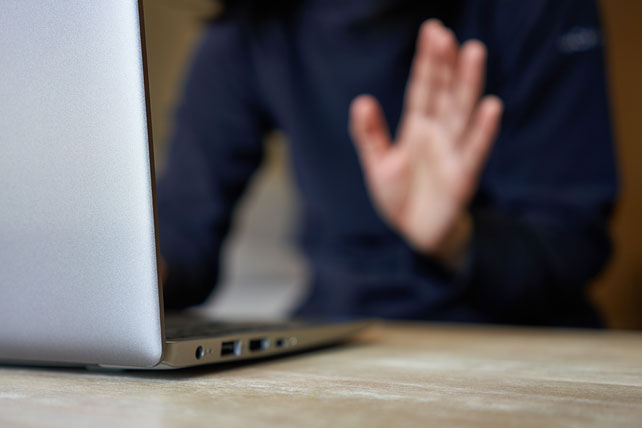 Editor's Note: Is it possible that there are still Zoom newbies out there? Incredibly, Yes! Contributor Bryan Haley from Reframe Media's ChurchJuice website has assembled a list of basics every user should know. Why not share them — and require them — for everyone on your staff?
Are you new to Zoom? Video conferencing can be a great way to keep people engaged, even when we're practicing social distancing.
There are alternatives to Zoom, of course. If you're looking for other options, check out Google's Hangouts Meet, join.me, and Skype. But Zoom is what we are receiving the most questions about right now—and it's what our ReFrame Media team uses on a daily basis.
So here are 5 rules for Zoom newbies:
Mute Yourself
Zoom newbies: When you enter a meeting, mute your audio right away. Only unmute your audio when you're ready to speak. Unmuting yourself is like the digital equivalent to raising your hand—it lets the host know you would like to speak. Have something quick to add to the conversation? Pressing the spacebar is like push-to-talk. It temporarily unmutes your audio.
Pro Tip: When you create a Zoom meeting, you can select an option to automatically mute everyone's audio when they join the call.
Turn on Your Video
Zoom newbies: Make sure your video is on when you join a Zoom call. But remember that your video is on! I was recently on a call with dozens of people, and one person had his video on but clearly forgot people could see him—we watched him pick his nose throughout the entire meeting! Don't be that guy. Turning your video on helps other people on the call know that you're there and engaged in the conversation. It might be a good idea to invest in a slightly better webcam, too, so that people can enjoy your smiling face even more.
Use the Chat Feature
Zoom newbies: The chat feature is an oft-overlooked addition to a Zoom call. Rather than having everyone on the call try to talk over each other, use the chat box to take a poll, ask for opinions, or have people add their prayer requests. Then the host can go through and address the items that need attention.
The Free Account Is Probably All You Need
Zoom newbies: If you want to have group meetings that last more than 40 minutes, you'll need one paid account for the person creating the meeting. If you're going to have more than 100 people on the call, you'll need to look at the paid options for the host, too. But for the vast majority of situations, your Zoom call will involve less than 100 people and will last less than 40 minutes—and if that's the case, you don't need to pay for an account.
Pro Tip: One-on-one meetings are not limited by time, even on the free account.
Only Password-Protect Your Highly Sensitive Meetings
Zoom newbies: Adding a password to enter your Zoom call is just one more barrier for entry. So don't do it. Keep things as simple as possible. When you create a Zoom meeting, you have the option to add a password. The only time I suggest adding a password is if you have lots of people utilizing the same Zoom account, and you want to be sure that only certain people are able to join a specific meeting. For example, if all of your church staff has access to the church's Zoom meetings—but you need to have a senior leadership meeting—that might be worth adding a password. Otherwise, keep it simple.
Do you have questions about how to utilize Zoom for your ministry? Did we miss a tip you think should be added? Add a comment below and let us know!
By the way, join our daily Zoom call for church communicators at 2pm ET! Each day we are coming together to encourage one another, brainstorm, problem-solve, and pray. It's a great time to be in community with other church communicators.
This article originally appeared here, and is used by the author's kind permission.