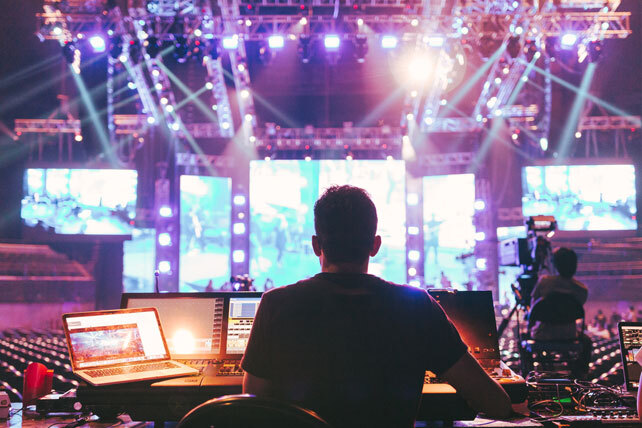 Until recently, only a small number of churches livestreamed their Sunday services. Then—almost overnight—livestreaming became the lifeline between churches and congregations. Now live video production has become vital component in a church's technology toolbox. The new KAIROS IT/IP Live Video Processing Platform can help transform your church's live streaming capabilities as well as dramatically improve communications to your congregation within the sanctuary or from wherever they are joining.
The KAIROS live video production platform enables your tech team to adapt to new challenges and requirements without the constant need to set up or tear down existing gear. It offers full flexibility of inputs and outputs to improve production efficiency and does away with the constraints of a traditional hardware-based system. Engineered to be highly scalable to address multiple campuses, KAIROS unleashes your creative vision for crafting inspirational worship experiences.
Unrestricted Flexibility and Scalability
With its IT/IP-centric platform, KAIROS is based on an entirely new concept and architecture. It incorporates newly developed ground-breaking software that processes ST 2110, SRT, RTMP, RTSP & NDI streams of any resolution. The platform achieves higher performance by fully utilizing the power and flexibility of its CPU and GPU in the KAIROS Core, balancing total processing load without the configuration constraints of traditional hardware-based systems. Churches can take advantage of the flexibility and scalability built into the IT-based open architecture platform, easily composing compelling content for many screens or streams within the sanctuary, campus or the larger on-line community, providing a customized upgrade path as more content sources and destinations are brought on board over time.
Resolution and Format
Since KAIROS is resolution and format independent, it allows for operation regardless of media formats or the resolution capabilities of various hardware. Mixed input sources with different resolutions, such as HD and UHD, can be processed simultaneously and combined into the same output scene. KAIROS fully supports baseband and IP signals such as SDI, ST 2110 and NDI, As well as streaming with SRT, RTMP and RTSP in any combination For example, it enables video production output as a standard 16:9 format, and also in the 32:9 format suitable for video walls, all managed from one controller.
Layered Structure
KAIROS has a layered structure for versatile video expression and is not restricted by the number of MEs or keys like a conventional switcher. Keys, effects, transitions and scaling can be added layer by layer without any limitations, and the total number of layers is limited only by the maximum GPU capacity. The KAIROS processing latency can be as low as one frame, so IMAG for services and music events can be presented on a large LED wall without concern for lip-sync issues.
User-Friendly Interface
Tech staff with diverse experience and skills can work with the user-friendly GUI of KAIROS Creator to delivery engaging content. KAIROS' layer-based desktop GUI brings a familiar interface like desktop publishing and editing. This easy PC or Mac control of the powerful Linux based processing engine helps utilize valuable human resources with its intuitive functional layout, and its ability to support growing deployments in every aspect of production, and its fully customizable KAIROS Control panel sets a new standard of usability, enabling technicians to manage unlimited layers and effects through an intuitive tactile interface.
The KAIROS platform empowers every area of church ministry because its open architecture platform facilitates the integration of hardware and software-based systems.