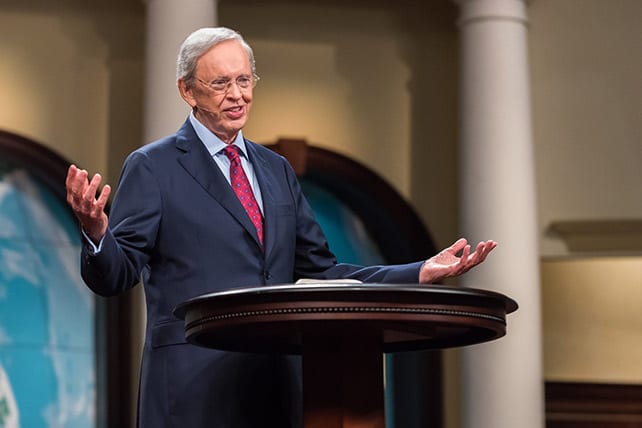 Dr. Charles Stanley says his recommended Pastoral Succession Plan for First Baptist Atlanta involves Stanley never retiring—even though he named Anthony George as his successor for the Atlanta megachurch.
This was the Facebook announcement for the church on December 10, 2017:
Pastoral Succession Plan
This plan officially provides for the orderly transition of the title, duties, and responsibilities of the role of Senior Pastor of First Baptist Church of Atlanta, Georgia, from Dr. Charles Stanley to Dr. Anthony George at such time in the future, known only to God, that Dr. Stanley ceases to be the Senior Pastor of the church.
–
Dr. Charles Stanley said, "While I intend to remain the pastor as long as God gives me health and strength, this plan will be officially in place to ensure a seamless transition in leadership whenever God ordains that to occur." 
According to an article in The Atlanta Journal-Constitution, Stanley who is 85 made it clear that he doesn't plan to retire anytime soon. Stanley said, he intends to remain as acting senior pastor "as long as God gives me health and strength, this plan will be officially in place to ensure a seamless transition in leadership whenever God ordains that to occur."
Not the founding pastor of the 13,000-member First Baptist Atlanta, Stanley came to the church in 1969 as an associate pastor and became the senior pastor in 1971. Stanley is also the founder of In Touch Ministries which produces radio and TV broadcasts.
On November 24, 2017 on the In Touch website, the ministry listed this summary of the message for that day:
"Aging is inevitable, but it doesn't have to make us unfruitful and useless. The secret to living a productive life is not found in a pill, a drink, or an exercise routine but in heeding what the Lord says. None of us know how long we'll live, but while we have breath, we should desire to be useful and fruitful for God. He is the one who ultimately determines the number of our days, but we have the responsibility of doing what we can to live long and productive lives."
An article from the Baptist Press, reports that…
Stanley, in his introductory remarks, clarified that the succession plan was not an indicator of an imminent retirement. "As you know, I don't believe in retirement. It's not biblical," he told the church. He assured the congregation that the succession plan would not alter his role as pastor and George's role as his associate.
Charles Stanley is not the only notable church leader who advocates spending an entire lifetime in service. Listen to John Piper's iconic 7-minute message that inspired "Don't Waste Your Life."
---
More about Charles Stanley
Charles Stanley Sermons
Here are several written sermons by Charles Stanley that are a "Landmine" series. The Landmine of Sexual Sins, The Landmine of Fear, The Landmine of Unforgiveness, The Landmine of Compromise, The Landmine of Slothfulness
Charles Stanley Holy Spirit Book – people far and wide talk about this book. The book titled, Living in the Power of the Holy Spirit is a best-seller. In the book, Stanley talks about how we never spiritually outgrow our dependency upon the Holy Spirit. The more mature we are in our faith and the more intimate our relationship with our heavenly Father, the more dependent we must be on the Holy Spirit. It is the Holy Spirit who guides us into the right path for us to talk and convicts us of our sin if we stray from that path. It is the Holy Spirit who reminds us of the truth of God's Word and teaches us how to apply God's Word to our daily lives. Is is the Holy Spirit who works in us to conform us to the image of Christ Jesus, and who works through us to minister the presence and power of Christ to others. The ongoing lesson all Christians must learn is how to experience and live daily in the power of the Holy Spirit! No matter where you are in your journey with the Lord, this is the key to your being a truly successful Christian. Read more on the Living in the Power of the Holy Spirit PDF.
Charles Stanley Church
Charles Frazier Stanley (born September 25, 1932) is the senior pastor of First Baptist Church in Atlanta, Georgia. He is the founder and president of In Touch Ministries and also served two one-year terms as president of the Southern Baptist Convention from 1984 to 1986.

How much money is Charles Stanley worth? 
Dr. Charles Stanley net worth: Charles Frazier Stanley is a pastor and religious fundamentalist who has a net worth of $1.5 million. He the senior pastor of First Baptist Church, a mega-church in Atlanta, and is the founder and president of In Touch Ministries, a Christian Evangelical non-profit ministry.
Charles Stanley most watched sermons on YouTube:
Taking Control of Our Thoughts– Dr. Charles Stanley
The Bible is full of truth about the importance of controlling our minds. In this sermon, Dr. Stanley shares Biblical truth found in Colossians 3 about how our tendencies to think as unbelievers change when we become believers. Christ gives us renewed thoughts and the Bible to guide us towards thinking like Christ—godly and positive thoughts.Waiting on God's Timing, Part 1 – Charles F. Stanley
God loves us and desires to meet the needs of our lives. He promises to answer our prayers, but not always according to our timing or method. Dr. Stanley reminds us that waiting on the Lord is a vital principle for every Christian. God, above all others, knows when the timing is right for His perfect plan to go into action. After all, He knows our lives from beginning to end, so He knows exactly where we are at this moment.Walking in the Holy Spirit – Dr. Charles Stanley
Do you want to live with real peace, contentment and joy in life? Do you want to have the power to overcome temptation or persevere through adversity?Prayer That Moves God – Dr. Charles Stanley
Prayer is seriously powerful business. So often, though, we treat it as a perfunctory task to be checked off our daily to-do list. How can we shift our attitudes from boredom and obligation to joy and expectation? The Lord always inclines His ear to His children. Learn the foundational principles of effective prayer, and how to confidently approach God with our petitions and requests.