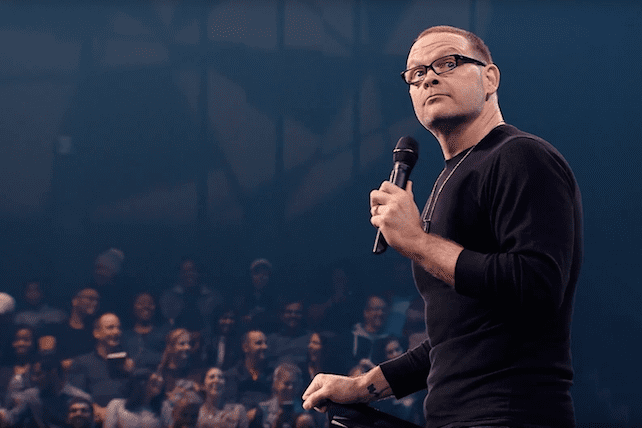 Perry Noble, former pastor and founder of New Spring Church in South Carolina, has returned to the pulpit after being fired in July, 2016, for alcohol abuse. Megachurch pastor Steven Furtick invited Noble to speak on February 4, 2017, at Elevation Church's 11-year anniversary celebration—an opportunity Noble was eager to take.
Noble spoke Saturday night and again Sunday morning at Furtick's church. After speaking Saturday night, Noble posted a profuse thank you note to Furtick and his wife, Holly, for allowing him "the honor of returning to preaching on the stage." Noble said, "What I thought was dead came to life again."
Furtick and Noble have been friends for many years. Furtick says early on in the launching of Elevation he asked Noble to be his "big brother" and that Noble believed in him and the vision of the church before it left the ground. Noble's message to Elevation encouraged listeners to "let God transform the pain of our past" in order to "live with purpose in the present."
Why the quick return?
Last month, Noble made a controversial announcement after completing rehab. He cited biblical examples like Peter and Paul—two incredible preachers who made wrong choices then started preaching the gospel relatively soon after turning around from their wrong choices.
Noble posted a video to his Facebook page about a month ago in which he addressed a question he's been getting a lot after jumping back into work via a consulting business and social media. Followers voiced their concern over whether Nobel was jumping back into ministry too early after his recovery from alcohol abuse. Calling it a fair question, Noble answered it by starting with Galatians 1:10:
"For am I now seeking the approval of man, or of God? Or am I trying to please man? If I were still trying to please man, I would not be a servant of Christ."
In the video, Noble mentioned his mother only lived to be 49, and if he were to live to that age, that would only give him 1,263 days left to do what God has called him to do. For this reason, he said, "I don't want to live the next 1,263 days of my life trying to win the approval of people who never believed in me in the first place." Noble then went on to encourage others to answer the calling of God on their lives and not allow fear or regret to rob them of that calling. "Step up to the plate and do what God has called you to do," Noble says emphatically.
Noble founded New Spring Church in 2000 and grew the congregation to 16 sites serving more than 30,000 people in attendance each week. Currently, Clayton King is serving as interim Senior Pastor.