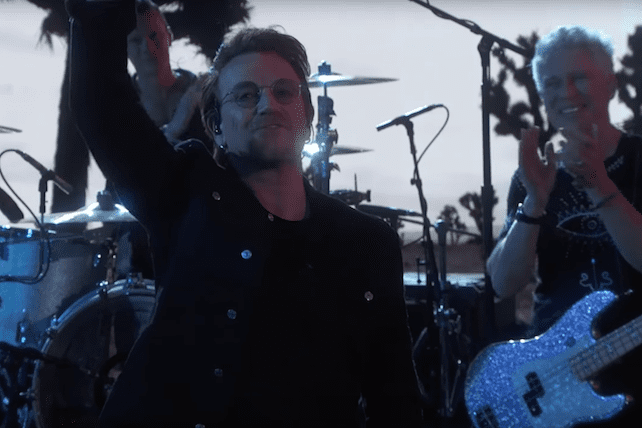 Thirty years ago, U2 rocked the music world with the release of their Joshua Tree album, which has sold over 25 million copies to date. One of the hits from that album is "I Still Haven't Found What I'm Looking For." The band recently surprised guests on Jimmy Kimmel Live to perform this song, which lead singer Bono referred to as a "gospel song with a restless spirit."
Before their musical performance, the group discussed the Manchester Terror attack, which had just taken place the night before. Bono condemned the attack, saying the perpetrators "hate everything that we love. And the worst of humanity was on view in Manchester." However, he also pointed out the best of humanity that was on display during the attack as people "queued up for blood banks" and displayed an "un-defeatable spirit."
After chatting briefly about the album and some of the themes in it, the band got up to perform the hit song. If you lived during any part of the 1990s, you've doubtless heard the iconic song (perhaps you can even sing it line for line). At one point in the performance, Bono says he's taking us to church. Choir members nestled in the crowd then stand up to sing gospel-centric lines like "He will lift you higher and higher" and "He will bring you shelter from the storm."
It's a beautiful performance that feels more like a church offertory than a pop music performance. Perhaps this is why U2 remains so popular: Their uncanny ability to merge spiritual themes with popular culture.
Religion and spirituality is a subject that Bono has been known to talk about for a while now. A professing Christian, Bono was recently involved in a film project with Fuller Seminary, in which he discusses the Psalms with The Message author Eugene Peterson. In the video, Bono explains how the Psalms push us to be more honest in areas like art and music.
One of the hallmarks of good art is its ability to tell truth—to convey something honestly and genuinely. In "I Still Haven't Found What I'm Looking For," everyone can relate to feeling this way when it comes to spirituality.
Even for those of us who have found Jesus, we still long for a deeper and purer relationship with him. We are still looking for the fulfillment of his kingdom that we haven't quite realized this side of heaven. And while we can rejoice in the fact that Jesus "broke the bonds" and "loosened the chains" as he "carried the cross" of our shame, we are still eagerly searching for his kingdom come.
In the meantime, we are indebted to artists like U2 that can genuinely convey the longing we feel in our hearts.