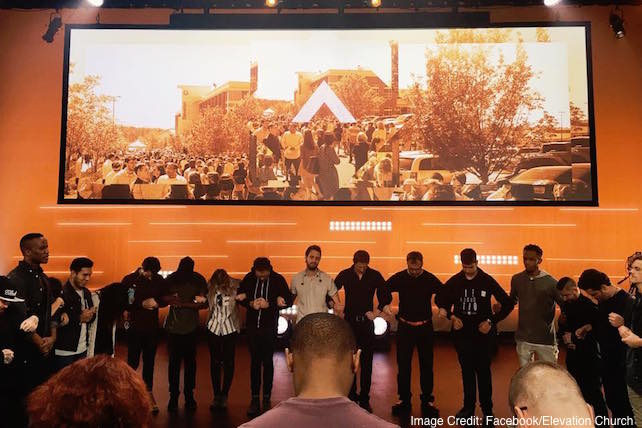 The church Steven Furtick started, Elevation, is known for a lot of things, one of them being its appeal to a group the church has had a hard time reaching: Millennials. Thanks to Fortune's 100 Best Places to Work for Millennials List, now we also know that this group likes to work at Elevation as much as it likes to worship there.
The Charlotte, North Carolina-based Elevation is the only church that made Fortune's list, and it's not the first time it has been on it. In 2015, Elevation ranked 34 on the list; this year, it's dropped to 91.
The list is a collaborative work of Fortune Magazine and the Great Place to Work Institute. They surveyed over 398,000 employees across the U.S. to determine the rankings. Great Place to Work analyzed how positively the people surveyed rated their organization using 50 metrics, from things like respect, fairness, diversity and great colleagues. Elevation received a 100 percent agreement response to the statement that the church is a great place to work.
One Common Goal and Family Support
The majority of Elevation's staff (80 percent) is made up of millennials. So what do they appreciate about their work environment? A profile of the church put together by Fortune includes some insight from the staff themselves. Respondents spoke of a common purpose the employees share: "Every morning I get to wake up and come to a place where I can collaborate with a diverse group of people to accomplish one common goal." One thing that a lot of "Millennial experts" agree on is the strong affinity this generation feels for causes. For a Christian committed to advancing the Kingdom of God, a big church with a lot of resources like Elevation might provide the perfect opportunity to work toward a Kingdom-minded cause. Additionally, while you work toward that cause, you might also experience the perk of career advancement. The same respondent cited the support he or she felt on this front: "We are given practical opportunities to grow."
A different respondent mentioned the commitment to family care the church holds. "My family has felt very supported through some tough seasons, and we've found the kind of support system here that is hard to find anywhere, much less in the workplace."
Plus These Perks…
On Elevation's profile page on Great Place to Work, the perks the employees enjoy do sound pretty appealing:
State of the art gym – "The Jungle," as it is called, features free weights, dumbbells, TX, medicine balls, etc. The church also employs certified instructors to lead daily "boot camp" classes and other athletic conditioning programs like yoga.
Locally roasted, organic coffee – Millennials do like their coffee, and Elevation knows this. They offer espresso drinks, pour overs and good old-fashioned drip coffee.
On-site childcare – Childcare facilities are staffed with licensed "dedicated teachers and caregivers."
Quarterly gift cards – The gift card program gives each staff member a $50 gift card to places like Regal theaters, Ruth's Chris or Nordstrom's every three months. These gifts are designed to promote date nights for couples and self-care for singles.
On-site oil changes – Employees can take advantage of various on-site services such as car detailing, haircuts, alterations and even financial planning while they're at work. The bill for these services comes out of their paycheck.
Game of the month – Whether it's mini-golf, four square or corn hole, the staff of Elevation likes to play games. These are once-a-month competitions played on site that promote inter-department interaction.
Recreational sports – A few times a year Elevation takes the athletic competition to another level by employing the sportsplex that is walking distance from their headquarter office. They use the facility to hold tournaments for things like ultimate frisbee, flag-football and basketball.
Furtick's ministry has come under fire a number of times, from inside and outside the church. But one thing seems to be apparent: He and the upper-echelons of his staff certainly know how to attract millennials—both in their worship services and in their state-of-the-art employee gym.