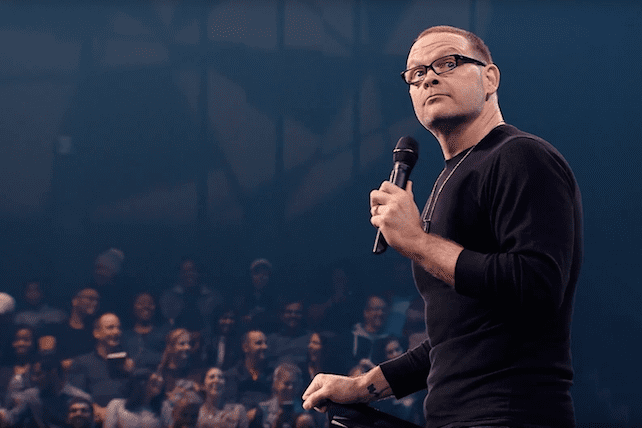 A popular saying among pastors and seminarians is, "I don't work for the elders, I work for God." It's an adage that is often invoked when a dispute arises in the local church but the reality or error of the statement goes much deeper.  
And it's being tested by Perry Noble.
Perry Noble was fired last year from the multisite NewSpring Church in South Carolina for a reliance on alcohol and other unbiblical behaviors. In August, the executive elders determined their founding pastor is unfit to return to the pulpit.
WHO CALLS? GOD OR MAN?
So yesterday on Facebook, Noble announced the digital launch of Second Chance Church, soon to be followed by a church with a building somewhere in South Carolina. At the time of this writing the video had 44,000 views.
The message that accompanied the announcement was based on the Old Testament story of Jonah, a prophet who ran away from God and was swallowed by a great fish.  
Noble said of Jonah's situation, "God didn't change his circumstances, he changed his perspective," adding, "I know from personal experience, even in the midst of incredible circumstances…we can still find hope."
Noble's hope came from the counsel he received from a friend who quoted Romans 11:29, "For the gifts and the calling of God are irrevocable [for He does not withdraw what He has given, nor does He change His mind about those to whom He gives His grace or to whom He sends His call]."
PERRY NOBLE: WHO'S IN CHARGE OF THE CHURCH?
The announced launch of Second Chance Church raises the question "Does a pastor need the blessing of a group of elders to start a church or does it come from God alone?"
Noble appears to be following the long-held view of pastor-elder relationships. In an op-ed exploring the relationship between elders and pastors for bible.org, Stephen J. Cole wrote, "Thus the answer to 'who is in charge of the church?' is, Jesus Christ is! He exercises His headship in the local church through elders who are spiritually mature men, selected by God and recognized by the church, who through example and servant-hood shepherd His flock."
It's a question NewSpring Teaching Pastor Clayton King answered in part regarding Noble's many speaking engagements since his ouster last summer,  "We have been asked why Perry can preach at other churches but not at NewSpring. We cannot speak for other churches and how they make decisions. For us, Perry currently does not meet the biblical qualifications of a pastor, teacher, shepherd."
King is echoing the belief that the local church is best able to discern the qualifications and restoration of one of its own. A view shared by R. Kent Hughes and John Armstrong.
"The fallen minister who confesses sin, seeks God's grace, and desires to remain in fellowship with the church of Christ, must be welcomed and received as any fallen Christian. He must be forgiven as Jesus commands (Matt. 18:22). But forgiveness and restoration to the fellowship of the church does not mean the former minister now meets the qualifications for holding the office of pastor/elder.
The church is not to punish the repenting man who has fallen. But refusing to return him to the role of pastoral ministry is not punishment. To remove a fallen minister is to honor Christ's holy standards; it is to follow the wise counsel and pattern of leaders over the centuries; it is to protect the man himself and his family; and it is to guard the church body, loved so dearly by the Chief Shepherd."   
A GROWING ISSUE FOR THE CHURCH?
Noble's story is similar to that of Ted Haggard, who was removed from Colorado Springs' New Life church in 2006 after a sex and drugs scandal. Haggard was the founder of the megachurch and agreed to counseling but left prematurely.
H.B. London, part of restoration team, told ABC News, "It was Ted, unfortunately, who walked away from the restoration process he agreed to before it was completed. Those of us who joined together to help him in that process were disappointed by that decision, but we certainly wish him and his family well and keep them in our prayers."
Haggard also founded another church following his scandal in the same town, St. James Church. It has a similar theme to Second Chance Church. He calls it "a church with resurrection power."
It's a powerful theme but one that causes problems for church polity.
One comment that Noble made in his Facebook message contains a truth that neither side in this debate will deny. He said, "God has the ability to take an ugly mess and turn it into a miracle."