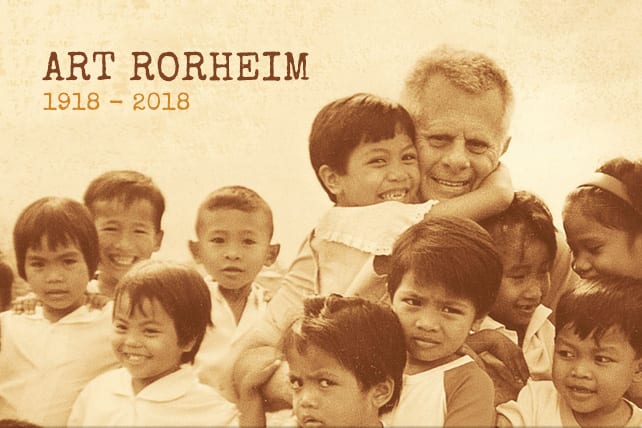 Art Rorheim is quoted as saying, "You know, kids are the same the world over, they respond to those who love them." And he also knew they liked to have fun.
Rorheim, the co-founder of Awana, died Friday at the age of 99.
FILLING A NEED
Rorheim and Lance "Doc" Latham created the Awana youth association in 1950 as a non-profit provider of curriculum and training materials.
Awana, derived from 2 Timothy 2:15, stands for Approved Workmen Are Not Ashamed.
Rorheim started full-time ministry in 1943 as the youth director at the North Side Gospel Center in Chicago. At the time, most churches didn't have mid-week programs for children like they do today. Rorheim and Latham set out to start one with exciting games that would attract kids.
In the early days, Rorheim shared a desk with another employee in a stairwell at the church. Although he never attended college, Rorheim quickly showed his creativity and organizational skills, developing many of the programs that make Awana unique today, including Bible-based handbooks and Awana games competitions.
RAUCOUS AWANA GAMES
For games, he devised a symbol that most Christians who attended church in their youth will recognize: a circle inside a square, its sides marked red, blue, green and yellow, divided by diagonal lines.
Rorheim had been having trouble with traditional two-team games as his youth group grew; his four-team court was designed to let 100 play with little downtime. Now more than 10,000 churches in the United States use it as they host Awana programs.
And the games played round that symbol are just as legendary. Baton relay races. Three-legged-races. Balloon volleyball. Four-way-tug-of-war. Throwing bean bags to knock over plastic bowling pins. Anyone who has worked as an Awana volunteer probably marveled at how there weren't nightly injuries.
In the beginning, they were even more raucous. Some of Rorheim's early games "were unconventional and even illegal," according to Awana: God's Miracle, Awana's official history book. Boys ran out of the building and around the block, then fought in the halls to slow each other down. "That game was short-lived when the church board heard about it," God's Miracle notes.
LOVE OF CHILDREN AND SCRIPTURE
In addition to the rousing games, Scripture memorization is a trademark of Awana, and Rorheim lived it out in his own life. On one occasion, he even required his children and grandchildren to recite Psalm 1 before attending a family reunion.
Friends and co-workers also praised him for his wit and love for children.

"He was so much fun, and he saw life as fun," said Jeff Schacherer, who worked closely with Rorheim at Awana and frequently traveled with him. "He loved to play jokes on people. He had a passion for life, and he felt a need to share it with others."

"Rorheim had tremendous energy because he had a passion for helping others connect with God," Schacherer said. When they traveled together, Rorheim wanted to sit separately so that he could have the opportunity to share his faith with the person sitting next to him.

"He didn't see bodies; he saw souls," Schacherer said.
By 1960, 900 churches had started Awana programs, and by 1972, Awana began its first international club in Bolivia.
Today, the Streamwood, Illinois-based international evangelical nonprofit serves churches from 100 different denominations and has an outreach of more than 3.7 million children as well as millions of adult alumni in over 100 countries.
Rorheim would go on to visit some 50 countries to spread the word about Awana and lead the national and international expansion of the organization until retiring as executive director in 1990. He then served as Awana president until 1999 before assuming the role of co-founder/president emeritus.
A memorial service for Rorheim will be at Quentin Road Bible Baptist Church in Lake Zurich, Illinois, at 11 a.m. Saturday, January 27.