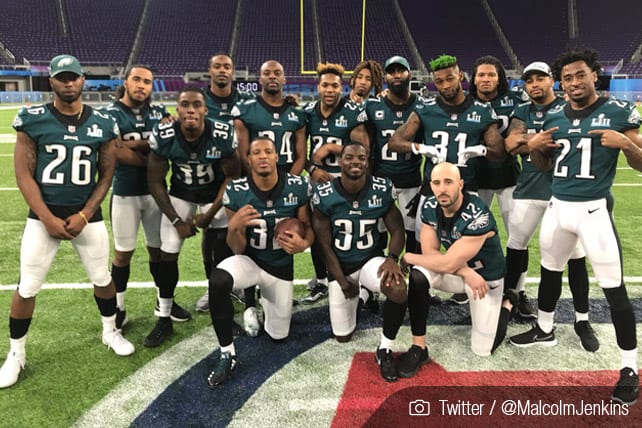 Unless you're from Philadelphia, there's a pretty good chance you never cared for the Philadelphia Eagles. Their players were mean and violent and epitomized by former coach Buddy Ryan who once said, "I think with me what you see is what you get. But some people don't like what they see."
Philly fans also have a reputation for being a little raucous. Did you know they once booed Santa Claus and threw snowballs at him?
This year's Eagles are an entirely different breed. Many attend regular Bible studies, they constantly talk about their faith and they say they just want to glorify God in all they do.
And one other detail separates the 2017 Eagles from their predecessors, the nice guys have a Super Bowl ring.
After Super Bowl LII, arguably the most entertaining of all time, the Eagles kept up their praise of God. Those who have been most outspoken in their faith also made a huge impact in the game.
While standing on the podium accepting the award as the game's MVP and holding his daughter, Lily, quarterback Nick Foles said, "All glory to God." Praising his Eagles teammates and coaching staff, he added: "To be here with my daughter, my wife, my teammates, this city…we're very blessed."
#FlyEaglesFly pic.twitter.com/ReHYUc8W6V

— Nick Foles (@NFoles_9) February 5, 2018
Foles, who also caught a touchdown pass in the game, plans to become a pastor when his playing days are over. He has already started seminary classes.
Tight end Zach Ertz caught the game winning touchdown. Before the game he said, "Our No.1 goal on this earth is to make disciples. It's the only job that we pretty much want to do. We want to draw people to Christ."
The @eagles @ZERTZ_86 just won the #SuperBowl but his No. 1 priority in his life is bigger than winning a ring.

"Our No.1 goal on this earth is to make disciples. It's the only job that we pretty much want to do. We want to draw people to Christ."#FlyEaglesFly pic.twitter.com/un8YSzZ7Cz

— The Increase (@The_Increase) February 5, 2018
Eagles head coach Doug Pederson, the man who called the trick play that resulted in Foles catching a touchdown pass and one that will talked about for decades, praised his "Lord and Savior Jesus Christ" as he talked to NBC's Dan Patrick before a national television audience immediately following the game. In the locker room after the emotional win he thanked his players for their commitment and sacrifice and then led them in the Lord's Prayer.
Center Stefen Wisniewski, who helped the Eagle offense rack up 538 yards of total offense tweeted before the game, "Let all the Glory be to Jesus!"
A lot of guys will get stressed before the big game. I will focus on Truths like these from Romans 8:31-39 and they will keep my heart at peace https://t.co/JXlVtdEblj Nothing can separate us from the love of Christ!!

— Stefen Wisniewski (@stefenwiz61) February 3, 2018
Wisniewski also plans to enter the ministry when his playing days are over.
Tight end Trey Burton, who threw the unexpected touchdown pass to Foles, wrote an article last summer about the great opportunity football had given him to share his testimony and biblical teaching with others.
Even the injured Eagles took time to praise God for the success of those who were on the field.  
One was Carson Wentz. The injured franchise quarterback tweeted after the game:
God is so good!!!! World Champions!!!! So proud of this team!!!! Told y'all my boy @NFoles_9 was gonna shine tonight! Well deserved my bro! #AO1 #flyeaglesfly

— Carson Wentz (@cj_wentz) February 5, 2018
Free safety Chris Maragos, also sidelined during the season because of injury, was asked after the game what role does Jesus plays in his life. He said, "It's everything, it's every aspect of my life. It's interwoven in everything that I do. Jesus is a part of my marriage, my kids' lives, it's a part of me as a parent and me as a football player. It's everything about who I am."
And then there was this picture, posted on Twitter by former NFL coach, now sports commentator, Tony Dungy:
After all the celebrations and confetti Justin caught up with the 3 Eagles QBs Nick Foles, Carson Wentz & Nate Sudfeld along with Zach Ertz who scored the winning TD. They were in a room by themselves—praying and thanking God. It was great for him to see that. pic.twitter.com/wDWgg2u01X

— Tony Dungy (@TonyDungy) February 5, 2018
What a game. What a team. What a testimony.