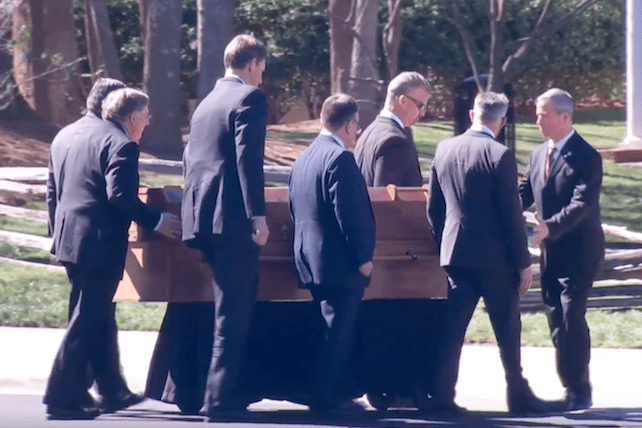 Some have called Billy Graham's funeral his final crusade.  And that it was.
Thousands were on hand or watching via live stream as Rev. Graham's family and friends shared stories of his life and in each case presented the gospel message.
"His fingerprints are on this service for sure," family spokesman Mark DeMoss said in a statement. "The Graham family has long considered that his funeral eventually would really be his last crusade."
The service featured songs from gospel musicians who performed at Graham's crusades: Linda McCrary-Fisher, Michael W. Smith and the Gaither Vocal Band. "They are all friends who sang for Graham at his home in recent years, DeMoss said, adding: "They're not just artists."
Graham's oldest son, the Rev. Franklin Graham, delivered the funeral message.  Franklin said his dad's mind was on heaven the last few years and asked him to share several points at his funeral:
"He believed the Bible to be the infallible Word of God." "He believed in Heaven and also in Hell."
"We have all sinned and the penalty is spiritual death for eternity."
"Jesus saves us from our sins."
"Jesus died on a cross to save you from your sins."
"If we repent of our sins and believe in Jesus to save us — he will."
And then Franklin Graham asked, "What better time to accept Christ's salvation than at Billy Graham's funeral?" Billy Graham asked his son to share the gospel message at his funeral.
Franklin Graham said he last saw his dad on February 18th.  Three days later his dad stepped into Heaven where Jesus welcomed him saying "Well done my good and faithful servant."
Franklin said he wasn't greeted that way because he's Billy Graham, but rather because "he is just another child of God."
Billy Graham's sister, Jean Graham Ford was the first family member to speak. Standing in front of the Billy Graham Library and her childhood home in Charlotte, NC, she joked,  "you don't know what's it's like to sit here and look at your home. I just had an argument with my husband about which window was my room."
She told the audience that Billy was now with Jesus adding, "Billy would want me to tell you that Jesus is coming again and he would like to take you (to Heaven) also."
She was followed by Billy's children.
Daughter, Anne Graham Lotz talked about reading the Bible to Billy when he got older and reading it the way her parents taught her.  Her mother, Ruth Bell Graham, had her insert her own name into the scripture to personalize its message. Billy would ask her to comment on what she had read.  She then read from I Thessalonians 4:13, a passage on the sure hope of believers who die in Christ.  
Daughter Ruth Graham told her personal story of sin and failures.  After her second divorce she went home unsure about how she would be received by her parents. She said, "no one wants to disappoint their father. You certainly don't want to disappoint Billy Graham."  Billy was in the driveway to meet her.  She said, "There was no blame, no shame, no condemnation. He just said "welcome home."  Ruth Graham added, "Billy wasn't God, but he showed me that day what God was like."
Franklin Graham ended his remarks with, "Dad, I will see you again…To God be the glory."
Billy's Graham's casket was led away to the hymn "Amazing Grace" played on a bagpipe with his grandchildren serving as pallbearers.
Billy Graham will be buried next to his wife in a memorial prayer garden at the library. His grave marker reads: "Preacher of the Gospel of the Lord Jesus Christ."
"Do I fear death? … No. I look forward to death, with great anticipation," Graham told a Newsweek reporter in 2005. "I am looking forward to seeing God face to face. And that could happen any day."  
Graham's funeral was a celebration of that day, and an invitation for all watching to share in it as well.