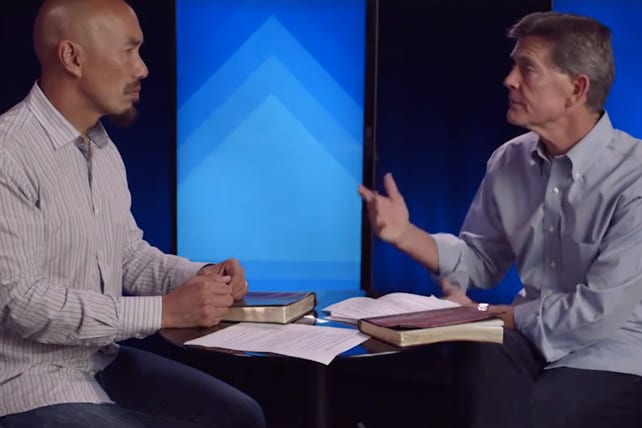 Francis Chan and Chip Ingram discussed three challenges facing pastors in a recent ChurchLeaders podcast; guarding against temptation, making time for growth and teaching the Bible's tough passages.
Ingram, the senior pastor of Venture Christian Church in Los Gatos, California, and the founder of Living on the Edge, said he can say no to temptation because he doesn't want to lose his voice in the pulpit. He said that's true for all pastors because "there's no power (in preaching) unless there is also integrity in the pastor's life."
"Knowing God precedes speaking for God," Ingram said, adding, "The spirit of God has to work in us before it works through us."
While some pastors might think they can get by on their communication skills, Chan said ultimately "there's no power in that. It's just wood, hay and stubble."
Many pastors can find it difficult to continue to grow in their ministry, especially for church leaders like Ingram and Chan who often speak at conferences rather than attend them as participants. How do they keep growing?
Chan, an author and speaker, said there's never a replacement for time alone with God in his word and in prayer.
He admitted that he is a listener and perhaps too impressionable. "If I don't get alone with the word and in prayer I will follow a pattern from someone else."
Chan said the temptation that often plagues him is a desire to move on to other topics rather than going deeper into issues like the holiness of God or his forgiveness. "You don't move on from those topics," he said. "Yes, learn new things but don't feel the pressure to move on from the foundational things in the Bible. Dig deeper into those."
Ingram credited his continued growth to a bricklayer with a high school education who came to his dorm room every week and taught Ingram how to meet with God. One discipline he adopted from those sessions was reading one chapter from A.W. Tozer's book The Knowledge of the Holy every day for 10 years.  
He said he keeps growing by remembering that God is all-good and all-knowing.  
Ingram avoids the Internet saying there are books and content that are timely and those that are timeless. "If you focus on the timeless, you will always be timely," he said.
Both Chan and Ingram believe staying in God's word and in prayer every day helps them preach on difficult topics.
Ingram admits that preaching on topics like abortion, homosexuality and the environment can be controversial. "If I'm not speaking on those topics, winsomely, I am neglecting the very areas that would tear people apart," and he would also be disobeying God. Still, it came with a cost.
"I got fried, I got threats…we needed security at services. But we have to speak clearly about what the Bible says, otherwise why are we here?"
Chan felt the same compulsion saying at the end of the day he has to tell people what he believes the Bible says and then stand before God for his interpretation. He said that puts complaints from people into perspective. "It's easy to let people believe what they want to believe but the idea is surrender to God."
Chan and Ingram are successful pastors and founders of large organizations, but what they both reveal is that without a daily intake of God's word and time with him in prayer, they could accomplish nothing.