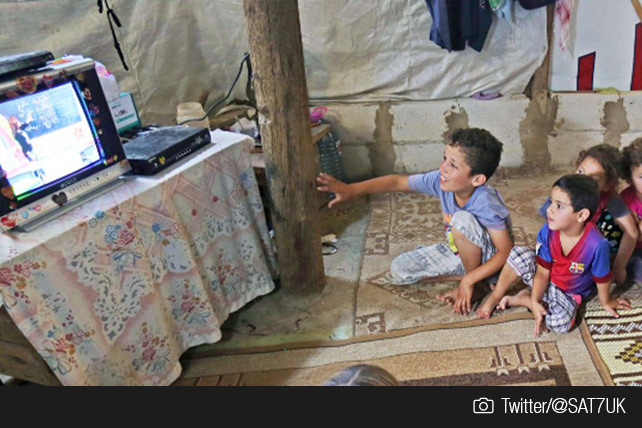 From Syria to Iran, Palestine to Egypt, spreading the gospel is difficult. Many Middle Eastern countries refuse to admit Christian missionaries. Many who do get in face grave dangers. In many places, converting to Christianity is against the law. Even within families, showing an interest in a religion other than Islam can result in banishment or worse.
Free will might not be a reality on the ground in the Arab world, but religious pluralism is in the air…on satellite TV.
Since the mid-'90s a host of Christian television programmers have been beaming the gospel into the Arab world from outer space. And it's getting a reaction.
In 2009, Leading The Way's satellite television channel, Kingdom Sat, started broadcasting into the Muslim world. It boasts 256,058 responses this year alone from viewers in the Middle East. For security reasons, LTW does not reveal the names of the viewers who contact them. Here is how their follow-up team described their interactions.
"U" from Egypt has many questions about Christianity and the Bible. He has been texting us but is afraid to meet the follow-up team. Please pray that he will see God's love for him."
"A" from Algeria is a convert who has been contacting us for a while. He feels lonely after his family left him because of his faith. He requested prayers for his wife to know Christ and for his protection. He wants to get baptized soon."
"M" is a convert from Jordan who has been discipled by our follow-up teams and was baptized. She has been under pressure from her family and requested prayers to find a job outside of Jordan. Her mother has been threatening to kill her and is carefully watching her. Please lift her up in prayer."
They also get email from those brave enough to reach out.
From Morocco – "I was a radical Muslim and I believed in jihad and killing anyone who does not follow the laws of Islam. After watching THE KINGDOM SAT…I wanted to tell you that I have decided to follow Jesus."
From Algeria – "I accepted Christ as my Savior but I've never met another Christian nor attended a church… I'm so thankful I got the chance to finally talk to a Christian through your channel."
From Iraq – "My uncle brought sheikhs to convince me to turn back to Islam, but they couldn't win the discussion. I knew my Bible and your programs enabled me to answer their questions."
During Easter, Kingdom Sat carried live church services and streamed them on Facebook. The programs raised questions from Muslim viewers about the cross and the resurrection of Jesus, according to Farid Garas of Kingdom Sat TV.