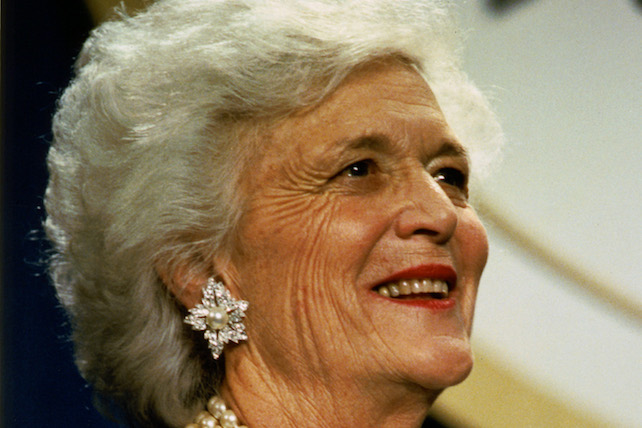 Barbara Bush, wife of former President George H.W. Bush and mother of former President George W. Bush, has died at the age of 92.
A statement released by former President Bush senior's office was released this evening.
A former First Lady of the United States of America and relentless proponent of family literacy, Barbara Pierce Bush passed away Tuesday, April 17, 2018 at the age of 92. She is survived by her husband of 73 years, President George H.W. Bush; five children and their spouses; 17 grandchildren; seven great grandchildren; and her brother, Scott Pierce. She was preceded in death by her second child, Pauline Robinson "Robin" Bush, and her siblings Martha Rafferty and James R. Pierce. The official funeral schedule will be announced as soon as is practical.
Barbara had been in failing health since Sunday. Again, the office of her husband released a statement at that time stating that the former First Lady had decided "not to seek additional medical treatment and will instead focus on comfort care." She died at her home in Houston, Texas, after suffering from congestive heart failure and chronic obstructive pulmonary disease.
Barbara was known for her advocacy of literacy and her support of the civil rights. Compared to the First Lady before her, Nancy Reagan, Barbara Bush was seen as practical and less concerned with her personal style.
The former First Lady was also known for her life of faith. Several faith leaders and political leaders alike have taken to Twitter expressing their condolences to the Bush family and remembering the lady that meant so much to them.
Victoria and I, along with our Lakewood family, honor the life and memory of our beloved former First Lady Barbara Bush. She was admired by all of us for her strength, grace, and unwavering faith. We extend our heartfelt condolences to President Bush and the entire Bush family.

— Joel Osteen (@JoelOsteen) April 18, 2018
"She was the picture of resilience, enduring the life-altering loss of her child, while never losing her abiding faith or belief in the fundamental importance of serving others" former VP Joe Biden said in a statement on the passing of Barbara Bush https://t.co/r27wV3f2AT pic.twitter.com/ASRdzg6OHX

— NBC News (@NBCNews) April 18, 2018
We honor the life of Barbara Bush, a woman of faith and devoted to her family. Thank you for serving our nation and sharing your life with us.#BarbaraBush #FirstLady #America pic.twitter.com/2lqaXxYoya

— Hagee Ministries (@HageeMinistries) April 18, 2018
.@FLOTUS Melania and I join the Nation in celebrating the life of Barbara Bush: pic.twitter.com/4OW72iddQx

— Donald J. Trump (@realDonaldTrump) April 18, 2018