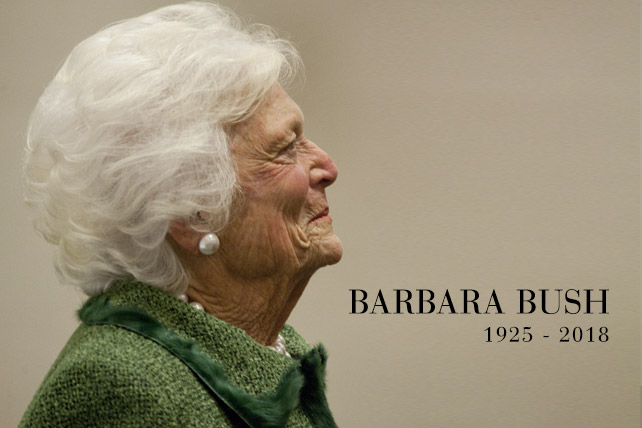 When it was announced earlier this week that Barbara Bush was foregoing additional aggressive medical treatment and returning home for "comfort care," the family issued a statement saying, "It will not surprise those who know her that Barbara Bush has been a rock in the face of her failing health, worrying not for herself—thanks to her abiding faith—but for others."
Two days later, the former First Lady went home to be with the Lord she unabashedly believed in.  
In a 2013 interview on C-Span, then 88-year-old Bush told the interviewer, "I'm a huge believer in a loving God, and I have no fear of death, which is a huge comfort because we're getting darned close.

"And I don't have a fear of death for my precious George or for myself because I know that there is a great God.
"That sounds so arrogant," she said, turning away from the interviewer. "I'm a big shot. I have a faith in God. I do have a faith in God. And I don't question it. I have no fear of death. And I think that's very comforting."
She said she looked forward to being reunited with deceased family members, including her daughter Pauline Robinson "Robin" Bush, who died of leukemia at the age of three.
Her abiding faith has been necessary over the last few years, for both her health and that of former President George H.W. Bush. Mrs. Bush suffered from congestive heart failure. She also coped with Graves' disease for many years.
Bush wrote in an update to the Smith College alumni magazine earlier this year, "I have had great medical care and more operations than you would believe. I'm not sure God will recognize me; I have so many new body parts!"
Barbara Bush, never one to hide what was on her mind, was known for her wit and candor. Here are a few of her more famous comments:
– "To us, family means putting your arms around each other and being there."
– "I married the first man I ever kissed. When I tell this to my children, they just about throw up."
– "Cherish your human connections—your relationships with friends and family."
– "Giving frees us from the familiar territory of our own needs by opening our mind to the unexplained worlds occupied by the needs of others."
– "You have to love your children unselfishly. That is hard. But it is the only way."
– "You just don't luck into things as much as you'd like to think you do. You build step by step, whether it's friendships or opportunities."
– "Believe in something larger than yourself…get involved in the big ideas of your time."
– "Some people give time, some money, some their skills and connections, some literally give their life's blood. But everyone has something to give."
– "Bias has to be taught. If you hear your parents downgrading women or people of different backgrounds, why, you are going to do that."
– "To us, family means putting your arms around each other and being there."
Barbara Bush was Episcopalian, and she and her husband, former President George H.W. Bush, regularly attended St. Martin's Episcopal Church in Houston. She was 92.