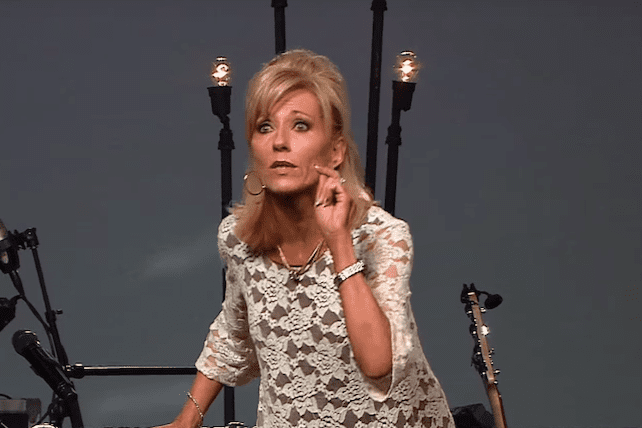 Beth Moore just published an open letter to Christian men. In her quintessentially graceful and humorous style, Moore lays out a not-so-humorous message: The church has a misogyny problem it needs to deal with.
Beth Moore starts her letter out by saying she's told Ed Stetzer that when he hears news that she is on her deathbed, Stetzer is to "elbow his way through my family members to interview me about what it's been like to be a female leader in the conservative Evangelical world." The reason he's been asked to wait until she's about to die is because she'll "get fried like a chicken," Moore explains.
Beth Moore Worked Within the System
She goes on to articulate, in purposefully vague detail, the ways in which she "worked within the system" of the Southern Baptist Church to be a leader and minister to women both in the SBC and beyond. When she had men show up to her classes, Moore didn't kick them out, but kept teaching. For the most part, this worked for her. And, she does not fail to mention (in a few places) the men who have encouraged her, fought for her, and shown her favor over the years. However, after reflecting on her decades-long ministry, Beth Moore is unsettled by the way she was treated in some cases and the behavior she adopted to stay below the radar, so to speak.
As a woman leader in the conservative Evangelical world, I learned early to show constant pronounced deference—not just proper respect which I was glad to show—to male leaders and, when placed in situations to serve alongside them, to do so apologetically. I issued disclaimers ad nauseam. I wore flats instead of heels when I knew I'd be serving alongside a man of shorter stature so I wouldn't be taller than he. I've ridden elevators in hotels packed with fellow leaders who were serving at the same event and not been spoken to and, even more awkwardly, in the same vehicles where I was never acknowledged. I've been in team meetings where I was either ignored or made fun of, the latter of which I was expected to understand was all in good fun. I am a laugher. I can take jokes and make jokes. I know good fun when I'm having it and I also know when I'm being dismissed and ridiculed. I was the elephant in the room with a skirt on. I've been talked down to by male seminary students and held my tongue when I wanted to say, "Brother, I was getting up before dawn to pray and to pore over the Scriptures when you were still in your pull ups."
Unfortunately, any woman who has spent time in ministry can hardly read Moore's words without recalling memories of their own of times they have been belittled, overlooked, or dismissed—not just by men, but sometimes women as well—simply because of their gender.
The Event That Broke Beth Moore's Silence
Moore says she put up with these "peculiarities" associated with being a woman in leadership due to her belief that the actions of her peers were rooted in their understanding of 1 Timothy 2 and 1 Corinthians 14. However, something shifted in October 2016 that made Moore start to pay more attention to these peculiarities.
Then early October 2016 surfaced attitudes among some key Christian leaders that smacked of misogyny, objectification and astonishing disesteem of women and it spread like wildfire. It was just the beginning. I came face to face with one of the most demoralizing realizations of my adult life: Scripture was not the reason for the colossal disregard and disrespect of women among many of these men. It was only the excuse. Sin was the reason. Ungodliness.