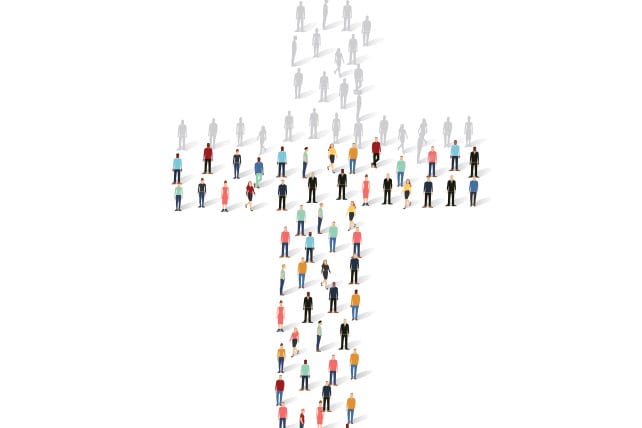 A sobering new study from ABC News/Washington Post shows a drastic decrease over the past 15 years in the number of Americans who identify as Protestant and a sharp increase in those who say they have no religious affiliation.
The analysis, produced for ABC by Langer Research Associates, shows last year, 36 percent said they are Protestant, down from 50 percent in 2003.
In the same time span, the number of Americans who say they have no religion has nearly doubled, to 21 percent.
Of the five groups identified in the study—Protestant, Catholic, other Christians, other religions and no religion—only Protestants suffered a decline.
Among all Protestants, 56 percent currently say they're evangelical or born-again; that has held essentially steady since 2003, with virtually equal declines in the number who say they're either evangelical or non-evangelical Protestants, down 7 and 6 points, respectively.
The largest shifts during this 15-year period is among young adults (age 18 to 29) with 35 percent now saying they have no religious affiliation.
Reasons for the decrease of American Protestants 
Greg Stier, Founder of Dare 2 Share, says there are a lot of reasons for the decline, but one that stands out is youth ministry is stuck in the '80s.
"Teenagers today are not necessarily looking for a place to hang out like they were back then. But we are stuck with the same old 'Games, pizza, short lesson, more games' concept that we have done for decades. The typical teen, between academics, athletics and electronics, is far too busy to just go hang out and play a few games and hear a little challenge."
He thinks one solution would be more mission trips, similar to what Mormon youth participate in.
"If Christian young people are given a vision for a mission now (not just when they graduate) to reach their peers with the life-changing message of Jesus, their faith too will be sealed and steeled."
Numerous studies have documented the exodus and looked for reasons why young adults are losing their faith.
A 2007 LifeWay Research Study found 70 percent will leave the faith in college. Only 35 percent eventually return. Seven in 10 Protestants ages 18 to 30—both evangelical and mainline—who went to church regularly in high school said they quit attending by age 23. Thirty-four percent of those said they had not returned, even sporadically, by age 30.
"The most frequent reason for leaving church is, in fact, a self-imposed change, 'I simply wanted a break from church' (27 percent)." "The path toward college and the workforce are also strong reasons for young people to leave church: 'I moved to college and stopped attending church' (25 percent) and 'work responsibilities prevented me from attending' (23 percent)."
Josh McDowell and David H. Bellis suggested in their book The Last Christian Generation, that young people simply no longer believe what the Bible says.
"Sixty-three percent of teenaged Christians don't believe that Jesus is the Son of the one true God. Fifty-one percent don't believe that Jesus rose from the dead. Sixty-eight percent don't believe that the Holy Spirit is a real entity. Only 33 percent of churched youth have said that the church will play a part in their lives when they leave home."
Sociologists Christian Smith and Patricia Snell investigated the growing departure of young people from the church in their 2009 book Souls in Transition: The Religious and Spiritual Lives of Emerging Adults.  
"Among American adults, emerging adults are significantly less religious. Generally speaking, the importance and practice of religion declines among young adults. No more than 15 percent of the total emerging adult population, embrace a strong religious faith. Thirty percent tend to customize their faith to fit the rest of their lives. They often have strong religious upbringing but tend to be more discriminating about what they will adopt. A smaller group, about 15 percent, believe in some higher power but are not sure what that is or means. About 25 percent of the emerging adult population may claim to be religious or even appreciate religion—but it simply does not matter. Five percent of all emerging adults have had little to no exposure to religious people, ideas or organizations. Ten percent of emerging adults are skeptical of religion and reject the idea of personal faith. They tend to hold critical, derogatory and antagonistic attitudes towards religion."
Atheism and tolerance also shrinking ranks of American Protestants 
And Dr. Alex McFarland, Director for Christian Worldview and Apologetics at North Greenville University, includes two other factors—"the rise of a fad called atheism" and "Our new god: tolerance be thy name."
There are several opinions regarding how to bring the emerging generations back to the church. Sociologist Mary Eberstadt believes the burden falls on families staying intact: "It has long been recognized that experience with an earthly father deeply informs the perspective about the heavenly father."
Sociologist Robert Wuthnow blames the church, "Unless religious leaders take younger adults more seriously, the future of American religion is in doubt."
Meanwhile, others say the younger generation won't return to Christianity until professing Christians start acting out their faith.
If there is any good news in the study, it's this—the mission field is no longer a distant country. It's right next door.