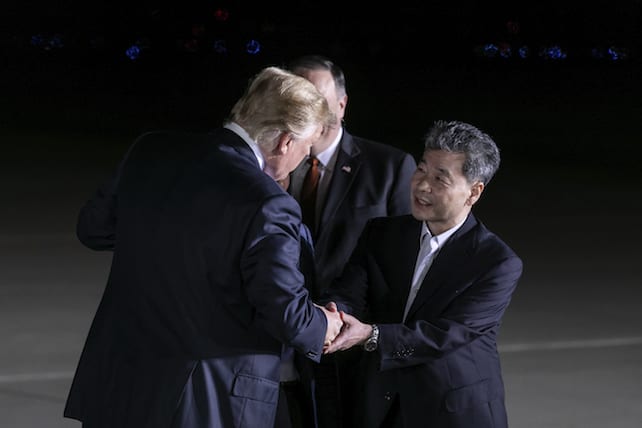 One of the recently released American prisoners in North Korea says his crime was prayer.
Kim Hak Song told of his year-long ordeal in a North Korean prison at his at his home church, the Oriental Mission Church in East Hollywood, California. He told fellow worshipers that his time was not wasted.
Kim Hak Song was arrested in May, 2017 while traveling from North Korea to China by train. Before he crossed the border he was approached by the North Korean security service who accused him of hostile acts toward North Korea.
"I was thinking, I don't know what I did wrong." When he asked his captors what hostile acts he reportedly committed against North Korea, he was told his crime was prayer.
Prayer, he thought, was normal. The North Korean government, he said, did not.
Kim Hak Song went to North Korea as a Christian missionary who intended to start an experimental farm at Pyongyang University of Science and Technology, a school founded by evangelical Christians and attended by elite North Koreans.
Kim Hak Song came to the United States in the mid-1990s, got his citizenship and attended seminary. It was while studying, he said, that he had developed an interest in North Koreans' plight. He was born to North Korean parents living in China.
After his ordination in 2004, Kim Hak Song returned to China to study agriculture. He had gone to China with the blessing and financial support of the Oriental Mission congregation. But he had ventured into North Korea, he said, without discussing it with the church members back home.
Rev. Peter Joo, a pastor at Oriental Mission Church, an Independent Holiness Church, said when they found out Song had moved to North Korea, "We prayed for safety because we know what is happening in North Korea."
Their fears were realized when Kim Hak Song was arrested. In addition to the crime of prayer, his captors showed him an email he had sent to the elders of the Oriental Mission Church asking them to pray for the people of North Korea. They also had records showing he had led early morning prayer for a worship group.
Kim Hak Song did not waste his time behind bars and God used him there. While detained, an official asked him to write about Christianity. He said he started with Genesis, the first book of the Bible.
"I was grateful and thankful that at this time I was able to share God's message to this person," he said.
He also said he spent a lot of time during his detention in prayer—confessing his sins, big and small, being thankful and asking God to watch over his family.
The day he was released he gathered his few belongings and his Bible and boarded a plane for the United States, thankful to God for his deliverance.
When he and his fellow captives boarded Secretary of State Mike Pompeo's plane they handed him this note:
"God's miracles still happen," Kim Hak Song said during his sermon. "And prayer is still very important."