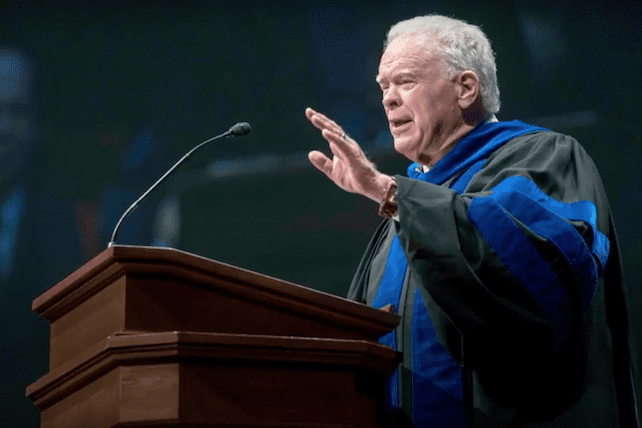 As questions and turmoil surrounding Dr. Paige Patterson's removal from Southwestern Baptist Theological Seminary continue, Patterson announced he will not preach at the Southern Baptist Convention next week in Dallas.
In a letter to SBC president Steve Gaines, Patterson wrote, "I will not preach the convention sermon as I was invited to do by the 2017 Committee on Order of Business and SBC messengers." He said his decision stemmed from "days of soul-searching before our God, whose blessed forgiveness and grace are continually poured out upon us all."
Patterson was removed from his role of president emeritus on May 30 by the seminary's executive committee, a position he held for a week after being removed as SWBTS president. The firings were for statements he made in the past about domestic violence and women's physical appearance.
While Patterson has denied the charges, and new evidence surrounding the allegations have raised more questions about his removal, Patterson said he would not preach in "an effort to do what I can to contribute to harmony within the Southern Baptist Convention and to respond to the request that has come especially from [Gaines] and other Southern Baptist leadership."
Kie Bowman, pastor of Hyde Park Baptist Church in Austin, Texas, will deliver the convention's keynote sermon. He told Baptist Press, "Dr. Patterson has done the right thing. This will help soothe and go a long way toward healing our convention and avoiding additional conflict."
Many SBC leaders had called on Patterson to withdraw from the speaking role because of the controversy that has been swirling over his comments during the past month. One, Ed Stetzer, Director of the Billy Graham Center at Wheaton College, tweeted his appreciation for the announcement.
I am thankful that Dr. Patterson has chosen stepped away from giving the SBC convention sermon. https://t.co/zyvLlsVYia

— Ed Stetzer (@edstetzer) June 8, 2018
In his email, Patterson also said he also is withdrawing as chairman of the evangelism task force appointed by Gaines a year ago in response to a vote of the convention in Phoenix.