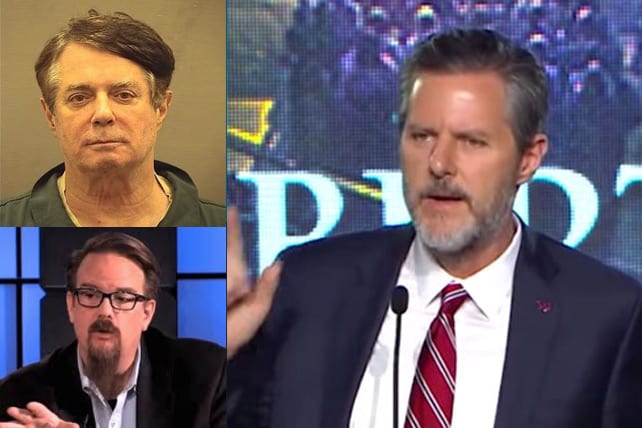 On Tuesday, a jury found former Trump campaign chairman Paul Manafort guilty on eight of the 18 counts of tax and bank-fraud charges.
While Donald Trump received 70 percent of the evangelical vote in 2016, many evangelical leaders have been vocal in their opposition to his lifestyle, character and even his fitness to be president.
While not many evangelicals commented on the Manafort conviction and its implications for Trump's presidency, those that did ignited a firestorm of comments from Christians both for and against Trump on Twitter.
Ed Stetzer, an outspoken critic of Trump and those who voted for him, tweeted shortly after the verdict was read in U.S. District Court in Alexandria, Virginia. Stetzer is the Executive Director of the Billy Graham Center at Wheaton College.
It never ends well when Christians tie their fate to a politician or party.

— Ed Stetzer (@edstetzer) August 22, 2018
While not defending Manafort or Trump, many took exception to Stetzer's tweet. One was Phil McCutchen, Pastor of Bethany Community Church in Mendon, MA.
Think I should clarify my retweet of this thought: I agree with Stetzer that Christians cannot find the answer in politics. However, Christians who chose Trump over Hillary are hardly "tying their fate" to politics. They simply did the best they could with the choices available.

— Timothy Buttram (@TimothyButtram) August 22, 2018
Your statement more than implies that if we support a party/candidate, which is our civic duty, we are tying our "fate" to them.  Yes, sometimes that support leads to a photo opp, but are we to give up an attempt to influence power?

— Phil McCutchen (@PastorPhilBCC) August 22, 2018
Another tweet that garnered quite a bit of reaction came from the other side of the political divide. Jerry Falwell Jr., president of Liberty University and an ardent supporter of Trump, suggested in his tweet that the verdict amounted to nothing.
This analysis of the impact on @realDonaldTrump of the Manafort and Cohen developments from yesterday is spot on! While @AlanDersh is no conservative, he is one of the most respected and unbiased legal scholars in the US! Libs who spiked the ball must feel foolish! https://t.co/EHDamhxwho

— Jerry Falwell (@JerryFalwellJr) August 23, 2018
Bryan Ayers, a software engineer from San Diego, echoed the sentiment of many.
Its embarrassing that you're continuing to carry water for a guy who cheated on his wife with multiple women and then paid them off in order to keep Evangelicals from jumping ship on his campaign. You know if a Democrat did half of what he's done you'd be livid

— Brian Ayers (@BrianAyers) August 23, 2018
Social media indicates evangelicals remain divided, and sadly it appears to be politics that is separating them.