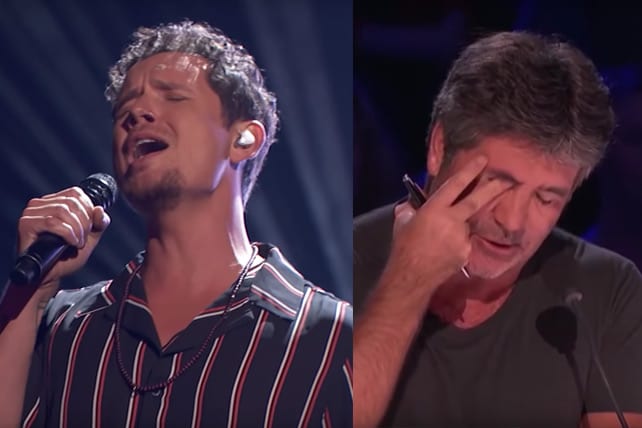 An emotional Michael Ketterer performed James Bay's "Us" on August 28th on the America's Got Talent stage. Once again, the worship leader and father of six moved the judges with his soulful voice. Simon Cowell was so overcome with emotion he had difficulty answering host Tyra Banks when she asked for his feedback.
"We just need more men like you," model Heidi Klum told Ketterer. All four judges on the panel (Cowell, Klum, Mel B and Howie Mandel) gave him a standing ovation when he was finished singing.
It was Ketterer's second appearance on the talent show, his first being a home-run performance that caused judge Cowell to hit the Golden Buzzer and send Ketterer straight to the final rounds of competition. From the beginning of the competition, Cowell, also a father, has had a soft spot for Ketterer.
"I can't imagine what you've done and the fact that you're on this show, and you really need this and you're a really, really special guy," Cowell told Ketterer.
The praise didn't stop there. Mandel said, "People should be led and inspired by who you are and how you are." The panel learned of Ketterer's family life the first time he was on the stage, in June.
Michael and Ivey Ketterer Are All About Adoption
In an I Am Second video, Ketterer and his wife, Ivey, share more of the story that led them to adopt five of their six children. When their oldest child, Sophie, was eight, she began having dreams about three brothers who needed to be adopted. Michael and Ivey knew they couldn't afford the cost of adopting a child from overseas, but they met a family who had fostered children and eventually adopted them. Hearing this family's story opened the door for the Ketterers, who were relieved to learn that foster children receive a lot of help from the government—things like healthcare and college tuition in some cases.
After going through the process of being certified to foster children, the Ketterers received a call about three brothers who had been living in a meth lab with their parents. Jared, Chase and Jeriah were added to the family shortly thereafter.
When he is not leading worship, Ketterer is a pediatric mental health nurse at a hospital. He also knows what it feels like to try to make one's way through life without a father. When he was 14, Ketterer's father left, and while he wasn't totally absent, he wasn't around much. Ketterer describes the feeling as "being out at sea with no compass."
During his first appearance on AGT, Ketterer explained to the judges that when you grow up in the situations his children had, you're focused on just surviving and can't dream. Ketterer told the judges he wished to show his children "that if their dad can live out his dreams, then nothing's impossible for them."
When the couple adopted their son Rodrigo (Rodee), who has cerebral palsy caused by shaken infant syndrome, they were told they were the only family who could take him due to Ketterer's medical background. There was so much work involved in taking care of Rodee that Michael actually told Ivey at one point that he didn't know if he could continue caring for him. Praying for God to show him if Rodee really was his son and that he should stay with the Ketterers, he asked for a sign. As Ketterer was driving to work that day, he saw a billboard (a literal sign) with a picture of a man pushing his son who also has cerebral palsy in a special wheelchair during a marathon. Ketterer took that as his sign and didn't look back.
The last child they adopted, Shawn, came in a way similar to the three brothers. Ivey had a dream about a "little black boy." Ivey says she woke up in the middle of the night and prayed, "Lord, if that little boy is my son, bring him to me." The next call the Ketterers received was about an African American boy who had been living on the streets. The family calls Shawn their "cherry on top," as they believe he completes the family.