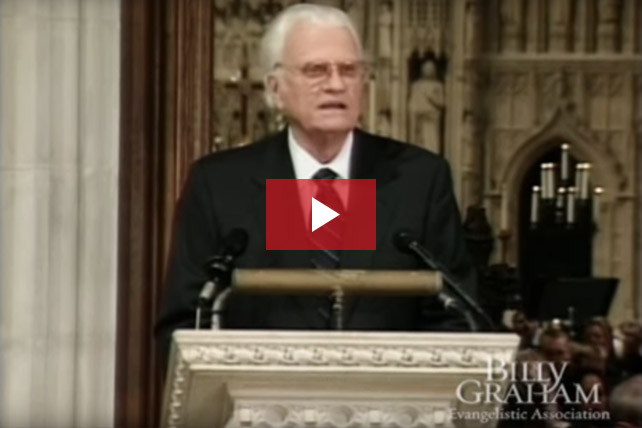 While prayer services swept the nation after 9/11 in 2001, God used Billy Graham's 9/11 message at the prayer service called by President George Bush in the Washington National Cathedral to encourage our nation.
Excerpts From Billy Graham's 9/11 Message
"We come together this day to reaffirm our conviction that God cares for us," Graham said. "Whatever our ethnic, religious or political background may be. The Bible says He is the God of all comfort who comforts us in all our troubles."
Graham acknowledged that no matter how hard we try, words could not express the horror, the shock and the revulsion of the events of 9/11.
And he had a warning for the 9/11 culprits: "Today we say to those who masterminded this cruel plot and to those who carried it out that the spirit of this nation will not be defeated by their twisted and diabolical schemes."
Graham asserted that someday these people would be brought to justice. Immediately, Graham turned to remind us that we need God; we've always needed God.
"God is our refuge and strength, an ever-present help in trouble. Therefore, we will not fear. Though the earth give way and the mountains fall into the heart of the sea." (Psalm 46:1)
While admitting he didn't have all the answers, Graham addressed the pervasive question: Why does God allow evil to happen? He gave these five points to try to help explain.
God can be trusted even when life is at its darkest.

There is the mystery and reality of evil.

God is not the author of evil.

God is sovereign.

God is a God of love and mercy and compassion in the midst of our suffering.
Graham called people to repentance that would lead to much-needed revival in our nation. And he reminded them of the brevity of this life and the need to face our spiritual need and commit ourselves to God. He then focused on the cross and shared a powerful gospel presentation.
The closing of Billy Graham's 9/11 message closed with this: "We all watched in horror as planes crashed into the steel and glass of the World Trade Center. Those majestic towers, built on solid foundations, were examples of the prosperity and creativity of America. When damaged, those buildings plummeted to the ground, imploding in upon themselves. Yet, underneath the debris, is a foundation that was not destroyed. Therein lies the truth of that hymn, 'How Firm a Foundation.'
"Yes, our nation has been attacked, buildings destroyed, lives lost. But now we have a choice: whether to implode and disintegrate emotionally and spiritually as a people and a nation; or whether we choose to become stronger through all of this struggle, to rebuild on a solid foundation." 
Watch the full video of Billy Graham's 9/11 message on the next page.