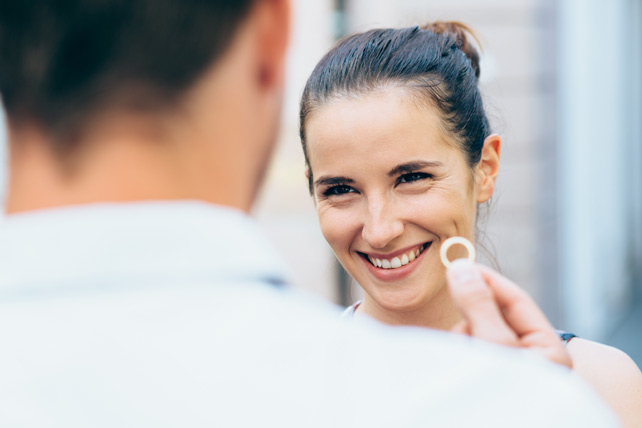 With the divorce rate at a 40-year low, researchers looking for reasons now point to an unlikely source: young adults. According to new data, Americans under the age of 45 are more choosy about their partners and are marrying later in life. This is especially true of Millennials, who are known for being cautious in general.
By analyzing U.S. Census information, sociology professor Philip Cohen found that America's divorce rate fell 18 percent from 2008 to 2016. When data were controlled for factors such as age, the divorce rate still fell 8 percent.
Younger women are playing an especially important role in this trend, Cohen says, because by the time they marry they're now more likely to be 25 or older and to have at least a bachelor's degree. "The trend in new marriages is toward those with lower divorce risks," Cohen says. "The composition of new marriages, along with the shrinking demographic influence of Baby Boom cohorts, all but guarantees falling divorce rates in the coming years."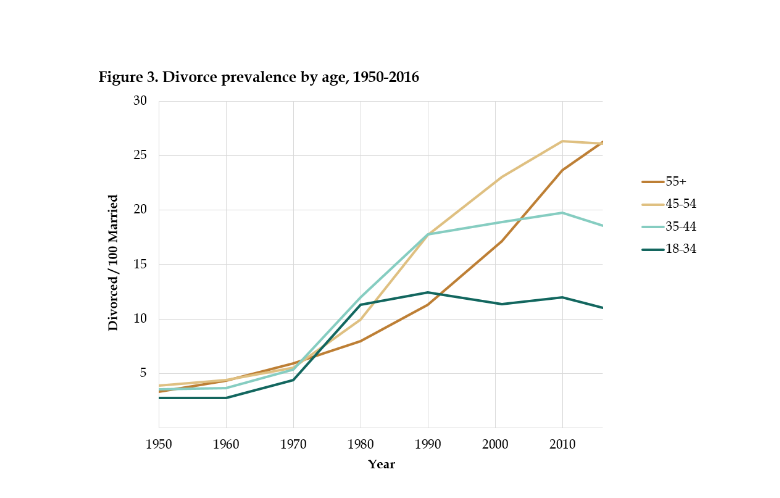 Millennial Divorce Rate Vs. Baby Boomer Divorce Rate
As a generation, Baby Boomers tended to marry young and to divorce and remarry often. They continue divorcing and remarrying even into their 60s and 70s, a phenomenon known as "gray divorce." Boomers are still divorcing at higher rates than their predecessors did at that age, Cohen says.
The sociologist also notes that fewer young people are getting married—and that marriage is becoming more exclusive. Tying the knot is now more of "an achievement of status, rather than something that people do regardless of" their life situation, Cohen says.
What Factors Contribute to the Lower Millennial Divorce Rate?
Socioeconomic status has become an important factor in whether people get and stay married, researchers are finding. Americans who are relatively wealthier and more educated are more likely to head to the altar, and money and education both have been shown to protect couples against divorce.
"It's really difficult to have a productive, happy marriage when your life circumstances are so stressful and when your day-to-day life involves, say, three or four bus routes in order to get to your job," says psychologist Eli Finkel.
In general, poorer and less educated people tend to choose cohabitation rather than marriage, and live-in relationships are usually less stable than wedlock. A 2017 study by the Pew Research Center found that of the 18 million Americans who cohabitate, half are under the age of 35. The number of people living together before marriage in the United States increased 29 percent between 2007 and 2016.
The most common age for marriage, as of last year, was 27 for U.S. women and 29 for U.S. men. The divorce rate for couples who are college graduates is about 30 percent, compared to more than 50 percent for spouses who didn't complete high school.
There Are Pros and Cons…
Grant Skeldon, a 28-year-old ministry leader in Texas, told ChurchLeaders his generation has "seen a ton of divorce from our parents and grandparents, so we want to make the right decision" when it comes to marriage. Most Millennials still want and expect to get married someday, he says, but there just isn't a "rush to get to the altar."
Skeldon, the author of the upcoming book The Passion Generation, adds, "The problem is, there's a point in their late 20s when everyone else seems to be getting married, so it's easy to fall into the trap of rushing the decision and settling for a relationship that could work."
A problem with later marriages—for couples as well as for society—is the selfishness factor, according to Skeldon. "The longer [young adults] take to get married, the longer we get to consider our needs and wants first," he says. "Marriage and kids are the left lane of sanctification. They have some incredible benefits, but one inevitable byproduct is that they force your hand in the selflessness category. You no longer can consider yourself alone. You must consider everything through the lens of your family and make decisions very differently."