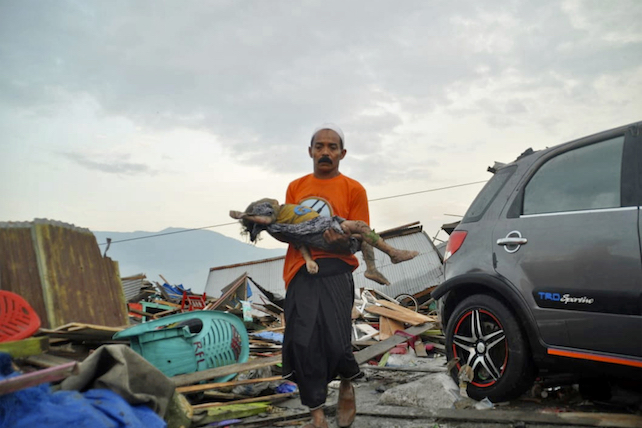 Casualties from a massive earthquake and tsunami that struck Indonesia on September 28 have reached almost 1,350, and the death toll is expected to rise as rescuers reach remote areas. The 7.5-magnitude quake on the island of Sulawesi triggered a tsunami that engulfed Palu, a coastal city of about 330,000.
The dual disasters caused widespread destruction, with an estimated 65,000 homes lost and nearly 200,000 people urgently needing assistance. Due to inadequate government funding, tsunami detection systems weren't operating, so residents received no warning about the approaching 20-foot waves.
Among the dead are at least 34 children who were attending Bible camp at a church in the Sigi Biromaru district of Sulawesi. More students are expected to be recovered, according to Indonesia Red Cross spokeswoman, Aulia Arriani. "The most challenging problem," she said, "is traveling in the mud as much as one-and-a-half hours by foot while carrying the bodies to an ambulance."
Initially, 86 students were reported missing at the church, which is located in a remote region of Sulawesi. Indonesia is the most populous Muslim-majority country in the world, but small pockets of religious minorities, including Christians, live across the islands.
After the Tsunami: Desperation and Frustration Mount
Infrastructure damage caused by the quake is making transportation difficult. Many areas lack heavy machinery, roads are impassable, and Palu's airport now has only one working runway. Angry survivors are intercepting aid deliveries, overrunning the airport and looting food, supplies and fuel.
Joko Widodo, Indonesia's president, is urging patience as survivors wait for aid to be distributed. The administrative head of Donggala, an outlying area, admits the assistance has been insufficient. "It was not enough," says Kasman Lass. "There are many people here. So, on this issue, we cannot pressure [residents] to hold much longer."
As frustration grows, so do concerns about security. "There is chaos because there is not enough supplies of food and clean water and medicine," says World Vision program manager Sabtarina Dwi Febriyanti. "People have begun robbing the shops just to survive and people keep hijacking the trucks bringing in the aid. I keep seeing people screaming, 'I need to survive, I need to survive.' So it makes the situation here uncomfortable and security is a big problem, especially [with] prisoners on the loose."
Another concern, according to World Vision, is the risk of child trafficking. The relief organization's website states: "During emergency situations, such as the earthquake and tsunami in Indonesia, children's vulnerability is significantly increased when they are separated from their families, unaccompanied, orphaned or displaced. Child traffickers will exploit the chaotic environment that follows a natural disaster or a crisis to engage in criminal activities."
How You Can Help Those Affected by the Indonesia Tsunami
Please pray for the people in Indonesia as they face loss and upheaval and as they struggle to survive and rebuild. For tangible assistance, experts say it's best to donate money to established relief agencies and organizations. Many groups, including World Vision and Samaritan's Purse, are already on the ground due to Indonesia's high frequency of earthquakes. (An August 5 temblor there killed at least 430 people.)
A list of ways to help is available here. Also check with your denominational relief agencies to find out how your congregation can offer assistance.