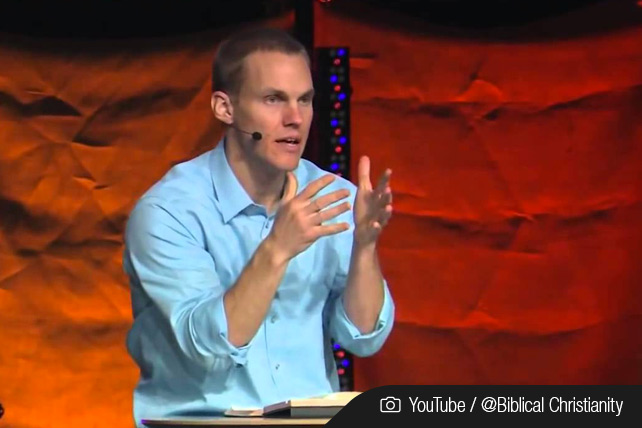 After four years as president of the Southern Baptist Church's International Mission Board (IMB), David Platt moved on last week and urged the church's "sending arm" to rise above challenges and politics. Platt, who was named IMB president in 2014, accepted the position of teaching pastor at the Washington, D.C.-area McLean Bible Church last September.
In February 2018, Platt asked IMB trustees to start looking for his replacement but committed to staying in office until one was found. Explaining his departure, Platt expressed a desire to focus on the local church, saying he hadn't been "using his role and gifts in a way that shepherds and mobilizes as many people as possible on missions." Prior to becoming IMB president, Platt had pastored a church in Alabama since 2006.
David Platt Encourages Leaders to "Rise Above"
In his September 26 farewell message at an IMB trustees' meeting in Richmond, Virginia, Platt urged SBC leaders and churches to be faithful to Scripture and effective with outreach, to base decisions on fact not anecdotes, and to choose missions over "political expediency."
"I want to plead with you to refuse to play political games while 2.8 billion people have little to no access to the Good News of God's love," Platt said. "I want to plead with you to refuse to pander to the applause of men." He added, "Life is too short, the need is too great and the mission is too important to waste our time on anything less than continual, intentional, biblical, strategic, honest conversations about how to get the Gospel to unreached men, women and children who are on a road that leads to an eternal hell."
Pointing to decreased worship attendance and decreased giving among Southern Baptists, Platt asked trustees to choose a president who isn't "content with this status quo" but can "rethink how we're going to send, sustain, support missionaries and how we're going to engage churches in this mission."
A Church Beset by Challenges
During his tenure as president, Platt faced obstacles and changes related to financial constraints. Because of a $21 million budget deficit, the IMB lost more than 1,000 missionaries and staff in 2015.
At this year's Together for the Gospel conference in April, Platt addressed the problems of systemic racism and injustice within the church. He wondered aloud why churches he's been part of are so white, why the IMB is so white and even why the T4G conference is so white. "The church is actually a force for continuing [racism]," he said, noting that more than 95 percent of white people attend white churches and more than 90 of black people attend African-American churches.
Although there aren't easy answers, Platt says, churches must "think Ephesians 2" and strive for multi-ethnic community. Discussions about racism and injustice are often uncomfortable, he says, but that's the only way to progress as a church and society.
Clyde Meador Named Interim President of IMB
During last week's meeting in Virginia, IMB trustees named Clyde Meador interim president. He has served the IMB for 42 years, including a previous stint as interim president from August 2010 to March 2011. With his wife, Elaine, Meador has been a missionary to Indonesia and throughout Asia. In 2001 he joined the IMB leadership team in Richmond.
"Clyde's walk with the Lord, humility, wisdom, broad experience and steady leadership will prove valuable during the time of transition," says Rick Dunbar, IMB chairman.
Meador says the only thing "interim" about IMB right now is his title. "God is not on pause, and neither is IMB."