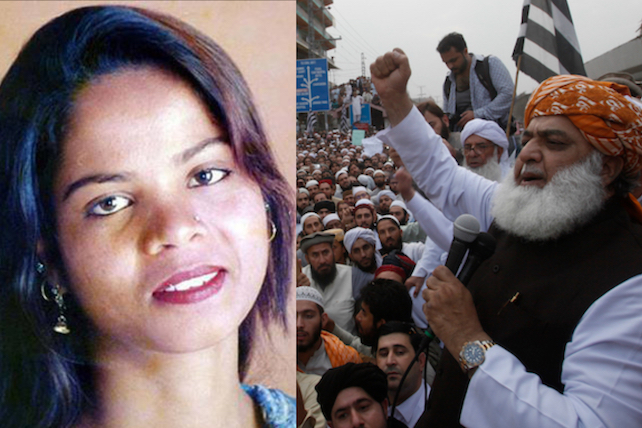 The government of Pakistan has struck a deal with the hardline Muslim protesters concerning the Supreme Court decision to acquit Christian Asia Bibi of the death sentence for blasphemy charges. The government has agreed to allow the ruling to be appealed and enact a travel ban on Bibi.
"What's painful is the response of the government. They cannot even implement an order of the country's highest court," said Saif ul Mulook, Bibi's lawyer. Mulook told reporters "the struggle for justice must continue."
Citing the need to stay alive in order to " to fight the legal battle for Asia Bibi," Mulook fled Pakistan on Saturday morning, bound for Europe. Multiple European nations have offered Bibi and her family asylum, but under the new agreement the government struck Friday night with the Tehreek-e-Labaik Pakistan party (TLP), which has been a major organizer of the protests, Bibi cannot leave until the verdict is appealed. It is unclear at this time if she will ever be able to leave Pakistan or if she will, in fact, face the death sentence she sat under for eight years.
The verdict acquitting Bibi of blasphemy charges was announced Wednesday, October 31. The Pakistani Supreme Court had actually made the decision earlier in October but delayed announcing it for fear of Bibi's safety and the potential for dangerous protests. Unfortunately, they were unable to deter the protests.
Immediately following the announcement, an angry mob of Islamist extremists blocked a major road from Islamabad to a neighboring city. They burned tires and threatened anyone associated with Bibi, including the judges who had ruled in her favor. In response, the government shut down the cellular phone networks in a couple major cities, hoping to deter the protests.
As of Friday night, the TLP has called an end to the protests. No information has been given yet when a decision might be made concerning the appeal, but we do know it has been filed. Details are forthcoming.