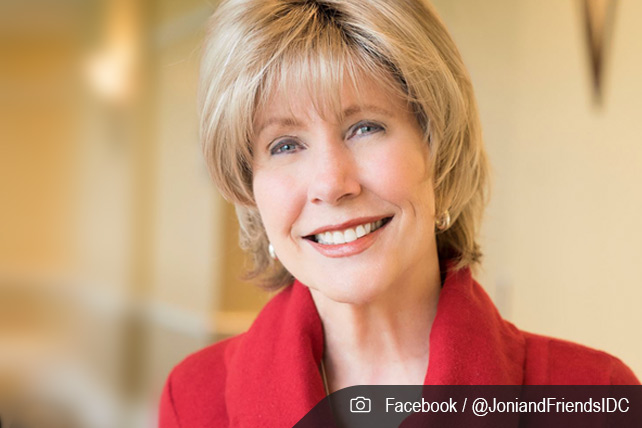 Joni Eareckson Tada has received a second cancer diagnosis. The Christian author and evangelist is scheduled to undergo surgery on Monday, November 26, 2018, to try to remove a cancerous tumor.
"When I received the unexpected news of cancer from my oncological surgeon, I relaxed and smiled, knowing that my sovereign God loves me dearly and holds me tightly in His hands. What good is it if we only trust the Lord when we understand His ways? That only guarantees a life filled with doubts," Tada said.
Tada's first cancer diagnosis came in 2010. She was diagnosed with stage three breast cancer and underwent a mastectomy and chemotherapy treatment at that time. After five years of treatment, Tada was declared cancer-free.
A statement from Tada's organization Joni and Friends explains Tada underwent tests last week on a "small nodule which had developed over the site of her mastectomy."
Tada is no stranger to suffering physically. She has spent the last 51 years of her life as a quadriplegic after a diving accident left her paralyzed. Tada is confined to a wheelchair and suffers from chronic pain. A big part of her life's work has been spent helping others who are disabled. Tada started Joni and Friends over 35 years ago with the mission of evangelizing and discipling people with disabilities.  
Tada says her ministry to those with disabilities keeps her motivated to keep going and to shun despair. "I am inspired by the many valiant people with disabilities and their families whom we serve every day at Joni and Friends; they are people who constantly persevere through personal crises. They do not doubt God's glorious purposes for their lives, why should I?" Tada reasons. Additionally, Tada says, "Jesus is ecstasy beyond compare and if new hardships draw us closer to Him, I'm more than content with it."
According to Doug Mazza, Joni and Friends President and COO, this statement is typical of Tada's attitude toward adversity. "It is no surprise that our Founder would be so positive in the face of what otherwise might be alarming news," Mazza says.
Tada has asked the broader church to pray for her in light of the cancer diagnosis. "Please pray that God will be glorified through all of this, that He will be trusted, extolled and exalted; that this new challenge become a platform for showcasing His grace, as well as the giving of the Gospel." Tada added, "And of course, that my surgeon shows great skill in surgery. After all, we want him to 'get it all.'"
Tada recently celebrated her 69th birthday on October 15, 2018.