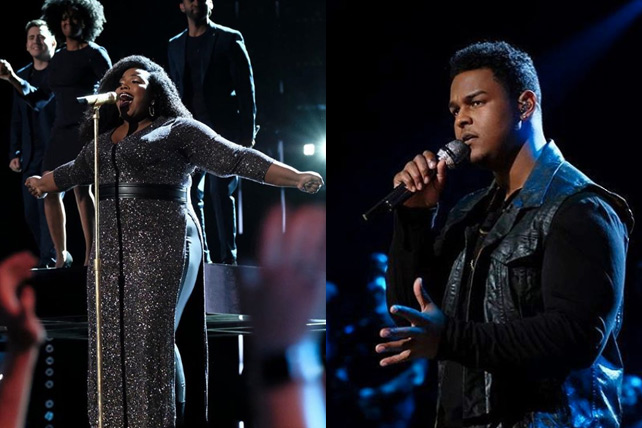 Two contestants on the 2018 season of the singing competition show The Voice put their hope for advancement in gospel songs. Kimberli Joye performed a goosebump-inducing rendition of "Break Every Chain" and DeAndre Nico performed an equally powerful version of "Take Me to the King." Fans of The Voice, who determine which contestants advance week after week by voting, showed their approval of the performances by advancing Nico and Joye to the next week of competition. The two, both Christians, are advancing to the Top 10 portion of the competition.
Both Nico and Joye are familiar with worship music and have used their gifted voices to bless their respective church families.
Twenty-six-year-old Kimberli Joye Rush is a worship minister at Ebenezer Temple in Hartford, Connecticut, where her parents, Victor and Jeannette Rush, serve as senior pastors. In an interview, Joye said her community is behind her 100 percent. They are keeping her in the competition by rallying voters and listening to her songs on Apple Music. Joye says a little girl even dressed up like her for Halloween, which moved her to tears.
For Joye, being authentic is very important, which is perhaps why her most recent performance on The Voice was arguably her best yet. Joye put a Gospel-music spin on Will Reagan's "Break Every Chain." Joye is comfortable and in her element when singing worship songs, and it showed in her performance. She explains, "If you're authentically you, somebody out there is going to accept you."
Twenty-two-year-old DeAndre Nico is from the Houston, Texas, area. Videos on the singer's YouTube channel show he is no stranger to singing in church. Several videos show him leading prophetic worship services, which is a form of worship that leans on improvisational music and words either spoken or sung by the singer.
After high school, Nico worked at a career as a musician. The aspiring artist plays the keyboard, drums, bongos, acoustic and bass guitar in addition to singing. His music gigs often involved him providing instrumental backing to other singers. When Hurricane Harvey hit his hometown in Texas, Nico and his family had a hard time escaping the flooding. Nico was actually trapped in a home for two days without food, water or electricity before he was rescued.
Nico secured a spot in the Top 10 portion of the competition with his performance of "Take Me to the King" by Kirk Franklin. He echoes Joye's sentiment that being authentic on stage is a really important element when singing. He advises other singers to "keep the integrity of a song" when they are performing. It's safe to say Nico did that with "Take Me to the King".
You can watch both Joye's and Nico's stunning performances below.